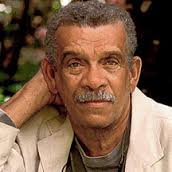 Derek Walcott
Derek Walcott was born in Castries, St. Lucia on January 23, 1930. Walcott was the son of a British father and a West Indian mother. His meticulously honed poems and evocative dramas exalt the English language while

read more
Featured Poem
XII
1
But two doors down, a cafeteria
reminded me of my race.
A soak cursed his vinyl table
steadily, not looking up.
5
A tall black cook setting glazed
pies, a beehive-blond waitress,
lips like a burst strawberry,
and her "Mornin'" like maple syrup.
Four deere caps talking deer hunting.
Click here for complete poem
Poets Book of Days
January 23
Charles Kingsley died, 1875

View Calendar of Days
Poetry Trivia
Question:
What notoriously violent twelfth century troubadour was the inspiration for Ezra Pound's "Sestina: Altaforte"?
Answer

Bertrans de Born (c.1140-1215). He famously lead a rebellion against the English king Henry II, only to reconcile with him by writing an elegy for Henry's son.

Previous Trivia Questions