Granger's is acknowledged as an inspiring site for poets and poetry lovers here
Follow updates on Twitter and Facebook.
Take the Granger's Guided Tour Here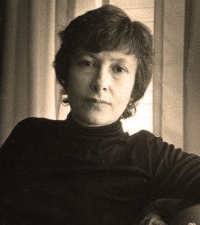 Denise Levertov
Denise Levertov, Anglo-American poet, was born in Ilford, England. She was educated in England and came to the United States in 1948. Her sparse and clear poems hint at an intuitive order behind the apparent chaos in

read more
Featured Poem
October
1
Certain branches cut
certain leaves fallen
the grapes
cooked and put up
5
for winter
their red cloaks
wrapped tight to the bone
Click here for complete poem
---
Poets Book of Days
October 24
Denise Levertov born, 1923

View Calendar of Days
Poetry Trivia
Question:
On what poet did Cecil Day Lewis initially base the character Nigel Strangeways, the detective of his crime novels?
Answer

Writing under the pseudonym Nicholas Blake, Day Lewis initially based the character on W. H. Auden, however he later made the character less extravagant.

Previous Trivia Questions