Click on the icons on the right for a free smartphone app for the featured poem and trivia!
Follow updates on Twitter and Facebook.
Take the Granger's Guided Tour Here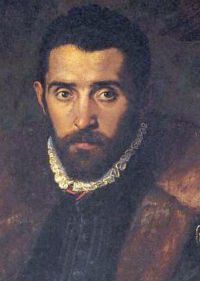 Torquato Tasso
Torquato Tasso, the great Italian Renaissance poet and author of Gerusalemme liberata (Jerusalem Delivered), was born March 11, 1544 in Sorrento. His father, Bernardo Tasso, was a court poet whose most famous

read more
Featured Poem
Io pure al nome tuo dolce rischiaro
1
At thy loved name my voice grows loud and clear
Fluent my tongue, as thou art wise and strong,
And soaring far above the clouds my song:
But soon it droops, languid and faint to hear,
5
And if thou conquerest not my fate, I fear
Invincible Alphonso, Fate ere long
Will conquer me—freezing in death my song,
And closing eyes now opened with a tear.
Nor dying merely grieves me, let me own,
Click here for complete poem
---
Poets Book of Days
March 11
Giles Fletcher the Elder buried, 1611

View Calendar of Days
Poetry Trivia
Question:
Whose famous last words were "Now, now, my good man, this is no time for making enemies"?
Answer

Voltaire, when asked by a priest to renounce Satan.

Previous Trivia Questions