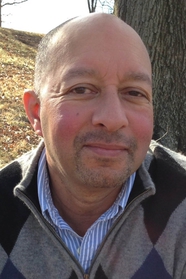 Carl Phillips
Carl Philips was born on July 23, 1959, into a military family in Everett, Washington. His father's job in the Air Force kept the family moving within the U.S. during his childhood. Philips describes himself as a "nerdy"

read more
Featured Poem
Brothers in Arms
1
The sea was one thing, once; the field another. Either way,
something got crossed, or didn't. Who's to say, about
happiness? Whatever country, I mean, where inconceivable
was a word like any other lies far behind me now. I've
5
learned to spare what's failing, if it can keep what's living
alive still, maybe just
                                  awhile longer. Ghost bamboo that
the birds nest in, for example, not noticing the leaves, color
of surrender, color of poverty as I used to imagine it when
Click here for complete poem
---
Poets Book of Days
July 23
Coventry Patmore born, 1823

View Calendar of Days
Poetry Trivia
Question:
What American poet stopped writing poetry in 1927, only 7 years after starting?
Answer

John Crowe Ransom. According to his friend Robert Penn Warren, Ransom turned to him one day and said, "I'm gonna quit writing poetry."

Previous Trivia Questions