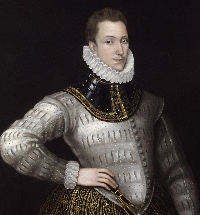 Sir Philip Sidney
Sidney, one of the leading members of Queen Elizabeth's court and a model of Renaissance chivalry, was born at his family estate of Penshurst and attended Christs Church, Oxford, where he associated with Walter

read more
Featured Poem
Sonnet 1
1
Loving in truth, and fain in verse my love to show,
That she, dear she, might take some pleasure of my pain,
Pleasure might cause her read, reading might make her know,
Knowledge might pity win, and pity grace obtain,
5
I sought fit words to paint the blackest face of woe,
Studying inventions fine, her wits to entertain,
Oft turning others' leaves, to see if thence would flow
Some fresh and fruitful showers upon my sunburnt brain.
But words came halting forth, wanting Invention's stay;
Click here for complete poem
---
Poets Book of Days
November 30
Ezra Pound's "The Seafarer" is published in The New Age in 1911.

View Calendar of Days
Poetry Trivia
Question:
Who failed his baccalaureate exam three times, but led the way in popularizing vers libre (free verse) through his poetry?
Answer

Though also found in the Bible and in Walt Whitman's poems, many Modernists held up Jules Laforgue as the model practitioner of free verse.

Previous Trivia Questions