Granger's is acknowledged as an inspiring site for poets and poetry lovers here
Follow updates on Twitter and Facebook.
Take the Granger's Guided Tour Here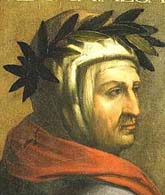 Guido Cavalcanti
The Italian poet Cavalcanti was the friend of Dante, and the great poet's work was strongly influenced by Cavalcanti's style. He belonged to the White faction in the struggle of the Guelphs in Florence and was exiled to

read more
Featured Poem
Sonnet: He interprets Dante's Dream, related in the first Sonnet of the Vita Nuova
1
U nto my thinking, thou beheld'st all worth,
 All joy, as much of good as man may know,
 If thou wert in his power who here below
Is honour's righteous lord throughout this earth.
5
Where evil dies, even there he has his birth,
 Whose justice out of pity's self doth grow.
 Softly to sleeping persons he will go,
And, with no pain to them, their hearts draw forth.
Thy heart he took, as knowing well, alas!
Click here for complete poem
---
Poets Book of Days
January 27
Dante is sent in to political exile from Florence in 1302. He will never return. In "Paradiso" he reflects on his state of exile, writing: "How bitter another's bread is, thou shalt know / By tasting i

View Calendar of Days
Poetry Trivia
Question:
What American poet was convinced by Ezra Pound to found a press devoted to publishing Pound and his friends?
Answer

James Laughlin. In 1935 Laughlin founded New Directions in Prose and Poetry. Today, New Directions is one of the premier publishers of poetry in the United States.

Previous Trivia Questions