Granger's is acknowledged as an inspiring site for poets and poetry lovers here
Download our free app by clicking on the icons at the right for the poem of the day.
Follow updates on Twitter and Facebook.
Take the Granger's Guided Tour Here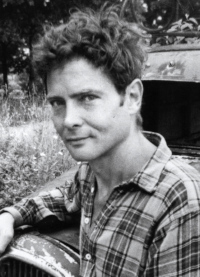 W. S. (William Stanley) Merwin
W. S. Merwin, American poet and translator, was born in New York City. After graduating from Princeton in 1948 (where he studied with the poets John Berryman and R. P. Blackmur), he traveled in Europe, studying

read more
Featured Poem
Identity
1
When Hans Hoffmann became a hedgehog
somewhere in a Germany that has
vanished with its forests and hedgerows
Shakespeare would have been a young actor
5
starting out in a country that was
only a word to Hans who had learned
from those who had painted animals
only from hearing tales about them
without ever setting eyes on them
Click here for complete poem
---
Poets Book of Days
September 30
W. S. Merwin born, 1927

View Calendar of Days
Poetry Trivia
Question:
How many of Emily Dickinson's poems were published during her lifetime?
Answer

Of 1,789 extant poems, only 10 were published before she died in 1886.

Previous Trivia Questions