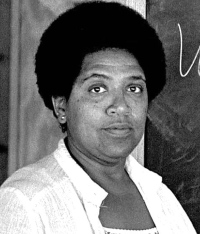 Audre Lorde
Audre Lorde, the daughter of Grenadian parents, was born on February 18, 1934 in Harlem, New York, where she was raised. Writing poems by the age of 12, she attended Hunter College High School, a school for gifted

read more
Featured Poem
Coal
1
I
is the total black, being spoken
From the earth's inside.
There are many kinds of open.
5
How a diamond comes into a knot of flame
How a sound comes into a word, coloured
By who pays what for speaking.
Some words are open
Like a diamond on glass windows
Click here for complete poem
---
Poets Book of Days
February 18
Audre Lorde born, 1934

View Calendar of Days
Poetry Trivia
Question:
What two female poets, and rivals, were in the same poetry workshop at Boston University, taught by Robert Lowell?
Answer

Sylvia Plath and Anne Sexton.

Previous Trivia Questions