Follow updates on Twitter and Facebook.
Take the Granger's Guided Tour here
Help us improve Granger's by taking our user survey
here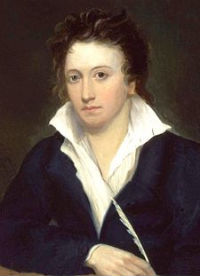 Percy Bysshe Shelley
Shelley was born into a Sussex family with aristocratic ties and educated at Eton and Oxford. During his first year at Oxford, he was expelled on account of a pamphlet in favor of atheism. His life was complex and

read more
Featured Poem
Adonais; An Elegy on the Death of John Keats
1
I
I weep for Adonais--he is dead!
Oh weep for Adonais, though our tears
Thaw not the frost which binds so dear a head!
5
And thou, sad Hour selected from all years
To mourn our loss, rouse thy obscure compeers,
And teach them thine own sorrow! Say: "With me
Died Adonais! Till the future dares
Forget the past, his fate and fame shall be
Click here for complete poem
---
Poets Book of Days
December 1
Percy Bysshe Shelley's "Adonais" is published in The Literary Chronicle in 1821.

View Calendar of Days
Poetry Trivia
Question:
The son of what two poets was nicknamed "Pen"?
Answer

Elizabeth Barrett Browning and Robert Browning's marriage (after a two year epistolary romance) resulted in a son who was aptly named Robert "Pen" Browning.

Previous Trivia Questions