Granger's is acknowledged as an inspiring site for poets and poetry lovers here
Follow updates on Twitter and Facebook.
Take the Granger's Guided Tour Here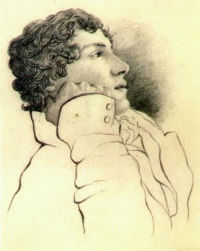 John Keats
It is probable that John Keats produced more great poetry at an earlier age than any other poet in this collection. Readers sometimes play a game that asks, "What would Shakespeare's (or

read more
Featured Poem
'Tis the Witching Time [or Hour] of Night
1
'Tis 'the witching time of night',
Orbed is the moon and bright,
And the stars they glisten, glisten,
Seeming with bright eyes to listen —
5
For what listen they?
For a song and for a charm,
See they glisten in alarm,
And the moon is waxing warm
To hear what I shall say.
Click here for complete poem
---
Poets Book of Days
October 31
Natalie Barney born, 1877

View Calendar of Days
Poetry Trivia
Question:
What poet's excess of passionate sentiment earned her the nickname "The Floating Lady"?
Answer

Lady Izumi (or Izumi Shikibu) was nicknamed the Floating Lady. Both she and The Pillow Book author Sei Shonagon were rivals of Tale of Genji author Murasaki Shikibu.

Previous Trivia Questions