Granger's is acknowledged as an inspiring site for poets and poetry lovers here
Follow updates on Twitter and Facebook.
Take the Granger's Guided Tour Here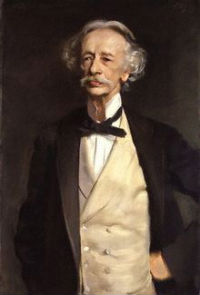 Coventry Kersey Dighton Patmore
Patmore is much more famous now for having been a close friend of Gerard Manley Hopkins and Francis Thompson than he is for his own work. However, he is recognized among a small group of religious

read more
Featured Poem
In Summer
1
T he summer's prime is come again;
 The lilies bloom anew;
The current keeps the doubtful past
 Deep in its bosom blue,
5
And low through quiet fields
 Grey with the falling dew.
The sheepbell tolls the curfew time;
 The gnats, a busy rout,
Fleck the warm air; the distant owl
Click here for complete poem
---
Poets Book of Days
July 23
On this day in 1846 Henry David Thoreau was sent to jail for the night for refusing to pay his poll tax to protest the Mexican-American War.

View Calendar of Days
Poetry Trivia
Question:
What American poet stopped writing poetry in 1927, only 7 years after starting?
Answer

John Crowe Ransom. According to his friend Robert Penn Warren, Ransom turned to him one day and said, "I'm gonna quit writing poetry."

Previous Trivia Questions