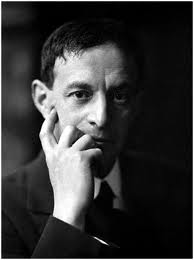 Walter De la Mare
Walter de la Mare, who was born in Kent, was too poor to go to school beyond adolescence. He worked for many years as a bookkeeper for a petroleum conglomerate—Anglo-American Oil Company, at the time a branch

read more
Featured Poem
Listeners, The
1
"Is there anybody there?" said the Traveller,
 Knocking on the moonlit door;
And his horse in the silence champed the grasses
 Of the forest's ferny floor:
5
And a bird flew up out of the turret,
 Above the Traveller's head:
And he smote upon the door again a second time
 "Is there anybody there?" he said.
But no one descended to the Traveller;
Click here for complete poem
---
Poets Book of Days
April 25
Thomas Vaux born, 1510

View Calendar of Days
Poetry Trivia
Question:
What poet's epitaph reads, "And alien tears will fill for him / Pity's long broken urn, / For his mourners will be outcast men, / And outcasts always mourn"?
Answer

Oscar Wilde. The lines are taken from his poem "Ballad of Reading Gaol."

Previous Trivia Questions