Granger's is acknowledged as an inspiring site for poets and poetry lovers here
Follow updates on Twitter and Facebook.
Take the Granger's Guided Tour Here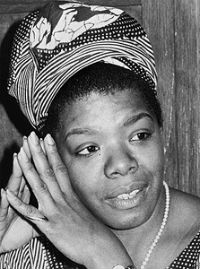 Maya Angelou
The American poet, writer, and performer Angelou was born in St. Louis, Mo., as Marguerite Johnson. As a child and teenager, she lived in a series of different homes, first with her parents in St. Louis, then, after their

read more
Featured Poem
Still I Rise
1
You may write me down in history
With your bitter, twisted lies,
You may trod me in the very dirt
But still, like dust, I'll rise.
5
Does my sassiness upset you?
Why are you beset with gloom?
'Cause I walk like I've got oil wells
Pumping in my living room.
Just like moons and like suns,
Click here for complete poem
---
Poets Book of Days
May 28
Thomas Moore born, 1779

View Calendar of Days
Poetry Trivia
Question:
With the exception of his first book, which late eighteenth century poet's works were not printed on a letter press?
Answer

William Blake. As a draftsman and engraver, Blake carved out his poems and the accompanying illustrations on printing plates.

Previous Trivia Questions