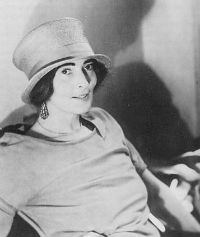 Mina Loy
Mina Loy was born Mina Gertrude Lowy on December 27th, 1882, in London. She was the first of three daughters born to her Hungarian-born Jewish tailor father, Felix Lowy, and her mother Julia Bryan. She began

read more
Featured Poem
Gertrude Stein
1
Curie
of the laboratory
of vocabulary
she crushed
5
the tonnage
of consciousness
congealed to phrases
 to extract
a radium of the word.
Click here for complete poem
---
Poets Book of Days
April 6
Petrarch catches his first and only glimpse of the woman he would call 'Laura' in the 366 poems he would write in her honor, on this day in 1327.

View Calendar of Days
Poetry Trivia
Question:
What magazine drew the ire of a young Lord Byron, provoking him to write the poem which would make him famous?
Answer

The Edinburgh Review . A sharp review of Byron's first book Hours of Idleness provoked the poet to write the satirical "English Bards and Scotch Reviewers."

Previous Trivia Questions