Granger's is acknowledged as an inspiring site for poets and poetry lovers here
Follow updates on Twitter and Facebook.
Take the Granger's Guided Tour Here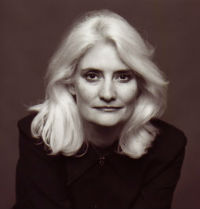 Terese Svoboda
A 2013 Guggenheim Fellow, Terese Svoboda will publish When the Next Big War Blows Down the Valley: Poems Selected and New in October 2015, and the biography Anything That Burns You: A Portrait of Lola Ridge, Radical

read more
Featured Poem
Hairy Stream
1
You could hike over it, the you
without a problem, its mountain
viewed from the closet
coats are found in, your constant
5
Yes/No a hee-haw, a mule alert
that's pasture-perfect,
a coronary at the last corner.
Nobody's framing you for the chintz-
covered wall to cover the leak.
Click here for complete poem
---
Poets Book of Days
September 5
Walter Alexander Raleigh born, 1861

View Calendar of Days
Poetry Trivia
Question:
What poet provided Bob Dylan (formerly Robert Zimmerman) with his performing moniker?
Answer


Previous Trivia Questions