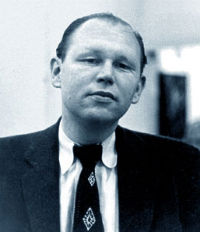 Jack Spicer
Along with Robert Duncan and Robin Blaser , Jack Spicer played a central role in the poetry movement that came to be known as the Berkeley Renaissance. Born in Los Angeles on January 30, 1925, Spicer

read more
Featured Poem
Among the coffee cups and soup toureens walked Beauty
1
Among the coffee cups and soup toureens walked Beauty
Casual, but not unconscious of his power
Gathering dishes mucked with clinging macaroni
Unbearable in his spasmatic beauty
5
Sovereign in Simon's Restaurant and wreathed in power
The monarch of a kingdom yet unruled.
Now regal at a table in the Starlite Club sits Beauty
Casual but not unconscious of his power
Kept by a Mr Blatz who manufactures girdles
Click here for complete poem
---
Poets Book of Days
January 30
Mary Howitt, died 1888

View Calendar of Days
Poetry Trivia
Question:
What was Arthur Rimbaud's profession after he stopped writing poetry at the age of 20?
Answer

Rimbaud engaged in many business ventures, including being an arms dealer when he moved to Ethiopia.

Previous Trivia Questions