Click on the icons on the right for a free smartphone app for the featured poem and trivia!
Follow updates on Twitter and Facebook.
Take the Granger's Guided Tour Here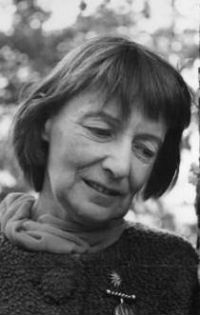 Stevie Smith
The English poet and novelist Smith was born in Hull, Yorkshire on September 20, 1902. At first unnoticed as a poet, she worked in a London publisher's office until 1953. Steadily gaining respect, Smith won the

read more
Featured Poem
Not Waving but Drowning
1
Nobody heard him, the dead man,
But still he lay moaning:
I was much further out than you thought
And not waving but drowning.
5
Poor chap, he always loved larking
And now he's dead
It must have been too cold for him his heart gave way,
They said.
Oh, no no no, it was too cold always
Click here for complete poem
---
Poets Book of Days
March 7
Robert Frost's "Stopping by Woods on a Snowy Evening" is published in The New Republic 1923)

View Calendar of Days
Poetry Trivia
Question:
Whose famous last words were "My vocabulary did this to me"?
Answer

Jack Spicer. Dying from the effects of alcoholism, he reputedly said this to Robin Blaser, adding, "Your love will let you go on."

Previous Trivia Questions