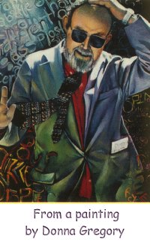 William Harmon
William Harmon grew up in Concord, North Carolina, a cotton-mill town about thirty miles northeast of Charlotte. At sixteen he entered the University of Chicago, where in 1958 he earned an A.B. in English. He then

read more
Featured Poem
Berryman
1
Well. I guess the elegy is dead. If so, then
let's let it roll to rest-o. Exeunt omnes. Ergo,
timor mortis conturbat
mé tóo, I reckon. Oh I get such green-edged vertigo
5
as the sick poet must have on the quickly lifting
bridge's shift of footing, or leaning peaked up above the grave
of his felo de se of a father down
in unlikely Oklahoma
(or wherever) toward the lower end of the fatherly
Click here for complete poem
---
Poets Book of Days
June 10
Alexander Barclay died,1552

View Calendar of Days
Poetry Trivia
Question:
What late 19th-century British poet declared, "I always knew in my heart Walt Whitman's mind to be more like my own than any other man's living"?
Answer

Gerard Manly Hopkins. Hopkins was a Jesuit priest, and he added, "As he is a very great scoundrel this is not a pleasant confession."

Previous Trivia Questions