Granger's is acknowledged as an inspiring site for poets and poetry lovers here
Follow updates on Twitter and Facebook.
Take the Granger's Guided Tour Here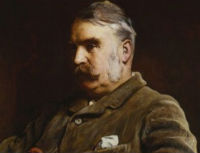 William Schwenck Gilbert
Although he was quite a successful writer of verse and prose and a less successful lawyer, Gilbert is best known for his immortal partnership with English composer Arthur Sullivan. Together they wrote fourteen operettas

read more
Featured Poem
Braid the Raven Hair
1
Braid the raven hair,
Weave the supple tress,
Deck the maiden fair
In her loveliness;
5
Paint the pretty face,
Dye the coral lip,
Emphasise the grace
Of her ladyship!
Art and nature, thus allied,
Click here for complete poem
---
Poets Book of Days
May 29
William Gilbert died, 1911

View Calendar of Days
Poetry Trivia
Question:
William Blake was arrested and put on trial. What was his crime?
Answer

Blake was arrested for making seditious utterances and "damning the king," while he was ejecting a drunken soldier from his garden. Blake was eventually acquitted, but he carried the sense of being persecuted into his later works.

Previous Trivia Questions