Granger's is acknowledged as an inspiring site for poets and poetry lovers here
Follow updates on Twitter and Facebook.
Take the Granger's Guided Tour Here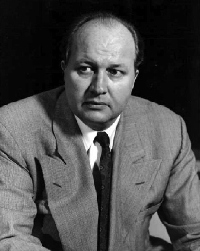 Theodore Roethke
Theodore Roethke was born in Michigan and spent much of his mature life in the Northwest, teaching at the University of Washington. In the barest externals, his career resembles that of Kenneth Rexroth, who

read more
Featured Poem
Academic
1
The stethoscope tells what everyone fears:
You're likely to go on living for years,
With a nurse-maid waddle and a shop-girl simper,
And the style of your prose growing limper and limper.
Click here for complete poem
---
Poets Book of Days
August 1
Theodore Roethke died, 1963

View Calendar of Days
Poetry Trivia
Question:
What poet acted as a consultant to the Ford motor company, suggesting names for a new line of cars?
Answer


Previous Trivia Questions