Click on the icons on the right for a free smartphone app for the featured poem and trivia!
Follow updates on Twitter and Facebook.
Take the Granger's Guided Tour Here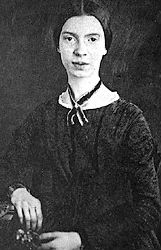 Emily Dickinson
Dickinson was born in Amherst, Massachusetts, and spent her life there. She was the daughter of Edward Dickinson, a distinguished lawyer who served in the United States House of Representatives. He was also a judge

read more
Featured Poem
Apparently with no surprise
1
Apparently with no surprise
To any happy flower,
The frost beheads it at its play
In accidental power.
5
The blond assassin passes on,
The sun proceeds unmoved
To measure off another day
For an approving God.
Click here for complete poem
---
Poets Book of Days
April 16
John Millington Synge born, 1871

View Calendar of Days
Poetry Trivia
Question:
"What poet's epitaph reads, "Life is a jest; and all things show it. / I thought so once; but now I know it"? "
Answer


Previous Trivia Questions