Granger's is acknowledged as an inspiring site for poets and poetry lovers here
Follow updates on Twitter and Facebook.
Take the Granger's Guided Tour Here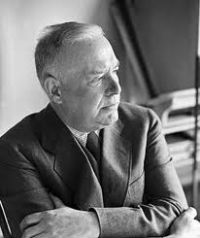 Wallace Stevens
Wallace Stevens was born in Reading, Pennsylvania, and attended Harvard University from 1897 to1900. After a brief stint as a reporter for the New York Tribune, he enrolled in New York University Law

read more
Featured Poem
Explanation
1
Ach, Mutter,
This old, black dress,
I have been embroidering
French flowers on it.
5
Not by way of romance,
Here is nothing of the ideal,
Nein,
Nein.
It would have been different,
Click here for complete poem
---
Poets Book of Days
August 2
Wallace Stevens died, 1955

View Calendar of Days
Poetry Trivia
Question:
What poetry book, named after a painting by the Italian mannerist painter Francesco Parmigianino, won the Pulitzer Prize, the National Book Award, and The National Book Critics Circle Award?
Answer

John Ashbery's Self Portrait in a Convex Mirror .

Previous Trivia Questions