Granger's is acknowledged as an inspiring site for poets and poetry lovers here
Follow updates on Twitter and Facebook.
Take the Granger's Guided Tour Here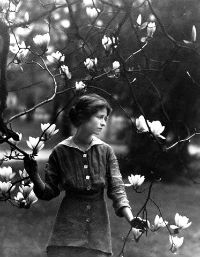 Edna St. Vincent Millay
Edna St. Vincent Millay was born in Rockland Maine, on February 22 1892. Her mother, Cora Millay, had trained as an opera singer, but after Edna's school

read more
Featured Poem
When the Year Grows Old
1
I cannot but remember
 When the year grows old—
October—November—
 How she disliked the cold!
5
She used to watch the swallows
 Go down across the sky,
And turn from the window
 With a little sharp sigh.
And often when the brown leaves
Click here for complete poem
---
Poets Book of Days
October 9
Edgar Allan Poe's "Annabel Lee" is published in The New York Times in 1849.

View Calendar of Days
Poetry Trivia
Question:
Who wrote in lieu of the final examination in William James's philosophy course, "I am so sorry but I really do not feel a bit like an examination paper in philosophy to-day"?
Answer

Gertrude Stein. William James wrote back that he had often felt similarly and gave her an A.

Previous Trivia Questions