Granger's is acknowledged as an inspiring site for poets and poetry lovers here
Follow updates on Twitter and Facebook.
Take the Granger's Guided Tour Here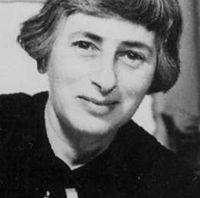 Babette Deutsch
The influential American poet, critic, and translator Babette Deutsch was born on September 22, 1895 in New York City, the daughter of Michael Deutsch and Melanie Fisher. She attended the Ethical Culture School and

read more
Featured Poem
Apocrypha
1
W hen John the Baptist was so young
That he had not yet learned to speak
A syllable of his native tongue,
The voice must have been shrill and weak
5
Wherewith his mother's heart was wrung.
When Jesus' fists uncurled to clutch
The shavings in his father's beard,
Before he learned to like to touch
The screws and nails his mother feared,
Click here for complete poem
---
Poets Book of Days
September 22
On this day in 1598 Ben Jonson was indicted on the charge of manslaughter after killing another actor in a duel.

View Calendar of Days
Poetry Trivia
Question:
Who was known as the "godfather of the Beats"?
Answer


Previous Trivia Questions