Follow us on Twitter, Facebook and Instagram.
Take the Granger's Guided Tour here
We're pleased to announce the winners of the 3rd annual Poetry Contest for high schools.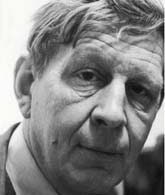 W. H. (Wystan Hugh) Auden
Gertrude Stein, Ezra Pound, and T. S. Eliot , among many others, were American-born writers who emigrated to Europe and spent much of their adult lives in

read more
Featured Poem
Legend
1
Enter with him
These legends, Love;
For him assume
Each diverse form,
5
To legend native,
As legend queer;
That he may do
What these require,
Be, Love, like him
Click here for complete poem
---
Poets Book of Days
May 20
W.H. Auden became an American citizen on this day in 1946.

View Calendar of Days
Poetry Trivia
Question:
What poem that described an event in Crimean War was published within a month of that event?
Answer

Lord Alfred Tennyson's"The Charge of the Light Brigade."

Previous Trivia Questions