Follow updates on Twitter and Facebook.
Take the Granger's Guided Tour here
In advance of National Poetry Month, Granger's is pleased to announce the Granger's Poetry Contest for high school students. See all the details
here.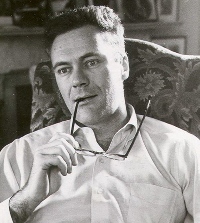 Robert Lowell
Robert Lowell, American poet and translator, was born on March 1, 1917, in Boston and graduated from Kenyon College (B.A., 1940). A grandnephew of James Russell Lowell and also related to

read more
Featured Poem
Watchmaker God
1
Say life is the one-way trip, the one-way flight,
say this without hysterical undertones—
then you could say you stood in the cold light of science,
seeing as you are seen, espoused to fact.
5
Strange, life is both the fire and fuel; and we
the animals and objects, must be here
without striking a spark of evidence
that anything that ever stopped living
ever falls back to living when life stops.
Click here for complete poem
---
Poets Book of Days
March 1
Richard Wilbur born, 1921

View Calendar of Days
Poetry Trivia
Question:
Which English Romantic poets belonged to the so-called "Satanic School"?
Answer

Lord Byron, Percy Bysshe Shelley, and John Keats. Robert Southey coined the phrase to characterize their audacity and general air of rebelliousness.

Previous Trivia Questions