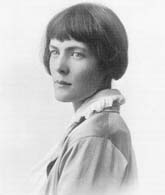 H. D. (Hilda Doolittle)
American poet Hilda Doolittle (pseudonym "H. D.") was born in Bethlehem, Pa., and educated at Bryn Mawr. After 1911 she lived abroad, marrying the English poet Richard Aldington

read more
Featured Poem
Helmsman, The
1
O be swift—
we have always known you wanted us.
We fled inland with our flocks,
we pastured them in hollows,
5
cut off from the wind
and the salt track of the marsh.
We worshipped inland—
we stepped past wood-flowers,
we forgot your tang,
Click here for complete poem
---
Poets Book of Days
September 27
H. D.(Hilda Doolittle) died, 1961

View Calendar of Days
Poetry Trivia
Question:
What book is sometimes called the first novel though it contains nearly 800 poems?
Answer

The Tale of Genji was written by Murasaki Shikibu. Despite the description as a novel, it was written in a form that combines prose with poetry and contains nearly 800 poems, which have come to be esteemed more highly than the prose.

Previous Trivia Questions