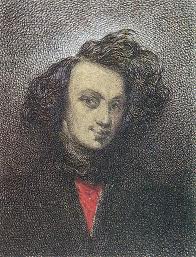 Théophile Gautier
Théophile Gautier was a nineteenth-century literary wonder. Like his friend and mentor Victor Hugo , Gautier produced a huge amount of writing during his forty-year career, in 1848 alone

read more
Featured Poem
Art
1
All things are doubly fair
If patience fashion them
And care--
Verse, enamel, marble, gem.
5
No idle chains endure:
Yet, Muse, to walk aright
Lace tight
Thy buskin proud and sure.
Click here for complete poem
---
Poets Book of Days
August 30
Theophile Gautier born, 1811.

View Calendar of Days
Poetry Trivia
Question:
What actor, famous for playing the role of Aragorn in the film versions of J.R.R. Tolkien's The Lord of the Rings , is also a poet?
Answer

Viggo Mortensen. He is the author of three collections of poetry.

Previous Trivia Questions