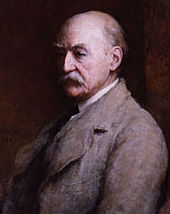 Thomas Hardy
Thomas Hardy was born on June 2, 1840, at Upper Bockhampton in Dorset. After several years as an apprentice in architecture, he began writing fiction and, over a thirty-year period, produced fourteen novels and a

read more
Featured Poem
At a Lunar Eclipse
1
Thy shadow, Earth, from Pole to Central Sea,
Now steals along upon the Moon's meek shine
In even monochrome and curving line
Of imperturbable serenity.
5
How shall I link such sun-cast symmetry
With the torn troubled form I know as thine,
That profile, placid as a brow divine,
With continents of moil and misery?
And can immense Mortality but throw
Click here for complete poem
---
Poets Book of Days
January 18
Rudyard Kipling died, 1936

View Calendar of Days
Poetry Trivia
Question:
What American poet had a vision of William Blake?
Answer

Allen Ginsberg. Ginsberg claimed that Blake appeared to him in a vision in order to tell him that he was a good poet.

Previous Trivia Questions