Click on the icons on the right for a free smartphone app for the featured poem and trivia!
Follow updates on Twitter and Facebook.
Take the Granger's Guided Tour Here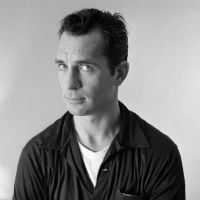 Jack Kerouac
The influential writer Jack Kerouac was born in Lowell, Mass., and studied at Columbia University. One of the leaders of the beat generation, he was the author of On the Road (1957), the novel considered to

read more
Featured Poem
And What Do I Owe You, God
1
And what do I owe You, God, for my gifts:
I owe you perspiration and suffering and
all the dark night of my life:
God I owe you godliness and diligence,
5
God I owe you this blackest loneliness,
and terrified dreams—
but humbleness, God, I have none and
I owe it You: for I would have You
reach down a hand to me, to help me
Click here for complete poem
---
Poets Book of Days
March 12
Emily Dickinson's "Some Keep the Sabbath Going to Church" was published in The Round Table in 1864.

View Calendar of Days
Poetry Trivia
Question:
What 17th-century poet was known as "The Matchless Orinda"?
Answer

Katherine Philips. It was a name given to her by Henry Vaughan, who had high praise for her poetry.

Previous Trivia Questions