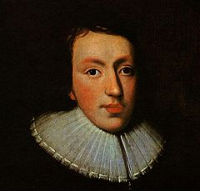 John Milton
Milton is customarily ranked as the second-greatest poet in English, surpassed only by Shakespeare. There have been attacks—most notably by Samuel Johnson in the eighteenth century

read more
Featured Poem
How soon hath Time the subtle thief of youth
1
How soon hath Time the subtle thief of youth,
Stol'n on his wing my three and twentieth year!
My hasting days fly on with full career,
By my late spring no bud or blossom shew'th.
5
Perhaps my semblance might deceive the truth,
That I to manhood am arriv'd so near,
And inward ripeness doth much less appear,
That some more timely-happy spirits endu'th.
Yet be it less or more, or soon or slow,
Click here for complete poem
---
Poets Book of Days
December 9
Edith Sitwell died, 1964

View Calendar of Days
Poetry Trivia
Question:
What did Charles Baudelaire shout as a rallying cry during the civilian uprising in Paris during the Revolution of 1848?
Answer

"Death to General Aupick." General Jacques Aupick was Baudelaire's stepfather and controlled Baudelaire's allowance.

Previous Trivia Questions