Granger's is acknowledged as an inspiring site for poets and poetry lovers here
Follow updates on Twitter and Facebook.
Take the Granger's Guided Tour Here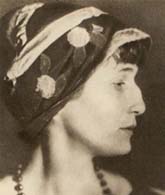 Anna Andreyevna Akhmatova
The great Russian poet Anna Akhmatova was born Anna Andreyevna Gorenko in the town of Bolshoy Fontan, near Odessa, on June 11, 1889. Her father was a naval captain and her mother came from an

read more
Featured Poem
Before Spring There Are Days Like These
1
Before spring there are days like these:
Under the dense snow the meadow rests,
The trees merrily, drily rustle,
And the warm wind is tender and supple.
5
And the body marvels at its lightness,
And you don't recognize your own house,
And that song you were tired of before,
You sing like a new one, with deep emotion.
Click here for complete poem
---
Poets Book of Days
March 5
Anna Akhmatova died, 1966

View Calendar of Days
Poetry Trivia
Question:
On what true story did Christina Rossetti base her poem "The Convent Threshold"?
Answer

The story of Abelard and Heloïse.

Previous Trivia Questions