Granger's is acknowledged as an inspiring site for poets and poetry lovers here
Follow updates on Twitter and Facebook.
Take the Granger's Guided Tour Here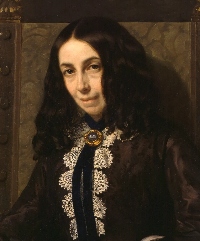 Elizabeth Barrett Browning
Elizabeth Barrett Browning was born on March 6, 1806, in Durham, England, the first of twelve children. Her father was a plantation owner with large estates in Jamaica. She grew up in Herefordshire where her father had

read more
Featured Poem
Cheerfulness Taught by Reason
1
I think we are too ready with complaint
In this fair world of God's. Had we no hope
Indeed beyond the zenith and the slope
Of yon gray blank of sky, we might grow faint
5
To muse upon eternity's constraint
Round our aspirant souls; but since the scope
Must widen early, is it well to droop,
For a few days consumed in loss and taint?
O pusillanimous Heart, be comforted
Click here for complete poem
---
Poets Book of Days
June 30
Jose Emilio Pacheco born, 1939

View Calendar of Days
Poetry Trivia
Question:
What Northern Irish poet wrote, "Ulster was British, but with no rights on / The English lyric"?
Answer


Previous Trivia Questions