Follow updates on Twitter and Facebook.
Take the Granger's Guided Tour here
In celebration of National Poetry Month in April, we are pleased to present over the next several days the winning poems (and honorable mentions) in our second annual Granger's Poetry Contest
here
.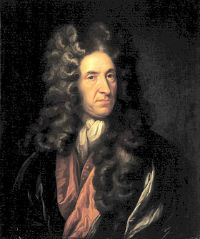 Daniel Defoe
Daniel Defoe was born around 1660 in the parish of St. Giles, Cripplegate, to James and Alice Foe. In August of 1662 the family's pastor was ejected from his post for failure to comply with the Act of Uniformity, which

read more
Featured Poem
Just such a happy Change, our Nation finds
1
 Just such a happy Change, our Nation finds:
If we Unite, our once Contented Minds,
With our rich Neighbour: then, doth dawn the day,
Which drives all Feuds and enmities away.
5
Let base Revenge and Damn'd Envy be gone,
And all our Int'rests be conjoyn'd in one.
No Mastiff Devil can our good withstand,
If as true Friends, we do join hand to hand,
That so no more of jealousies be known;
Click here for complete poem
---
Poets Book of Days
April 26
Daniel Defoe died, 1731

View Calendar of Days
Poetry Trivia
Question:
What poet and wit's epitaph reads, "When I am dead, I hope it may be said: / 'His sins were scarlet, but his books were read'"?
Answer


Previous Trivia Questions