Granger's is acknowledged as an inspiring site for poets and poetry lovers here
Follow updates on Twitter and Facebook.
Take the Granger's Guided Tour Here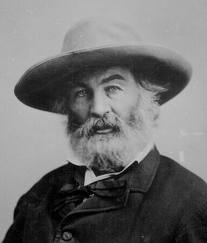 Walt Whitman
Walt Whitman was born in West Hills, N.Y. Considered by many to be the greatest of all American poets, Walt Whitman celebrated the freedom and dignity of the individual and sang the praises of

read more
Featured Poem
Thought of Columbus, A
1
The mystery of mysteries, the crude and hurried ceaseless flame, spontaneous, bearing on itself.
The bubble and the huge, round, concrete orb!
A breath of Deity, as thence the bulging universe unfolding!
The many issuing cycles from their precedent minute!
5
The eras of the soul incepting in an hour,
Haply the widest, farthest evolutions of the world and man.
Thousands and thousands of miles hence, and now four centuries back,
A mortal impulse thrilling its brain cell,
Reck'd or unreck'd, the birth can no longer be postpon'd:
Click here for complete poem
---
Poets Book of Days
October 13
Richard Howard born, 1929

View Calendar of Days
Poetry Trivia
Question:
Who, at the start of the Second World War, took a 26 year hiatus from poetry and focused on his career as a social worker?
Answer

Carl Rakosi, one of the original Objectivists, stopped writing and reading poetry from 1941 to 1967.

Previous Trivia Questions