Granger's is acknowledged as an inspiring site for poets and poetry lovers here
Follow updates on Twitter and Facebook.
Take the Granger's Guided Tour Here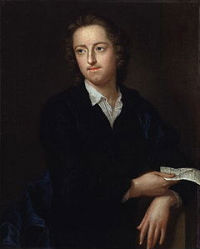 Thomas Gray
Like John Milton, Thomas Gray was the son of a scrivener (that is, someone involved in the legal and financial care of documents and investments). Gray was born in London and educated at Eton and

read more
Featured Poem
Ode on the Death of a Favorite Cat, Drowned in a Tub of Gold Fishes
I
1
Twas on a lofty vase's side,
Where China's gayest art had dy'd
 The azure flowers, that blow;
Demurest of the tabby kind,
5
The pensive Selima reclin'd,
 Gazed on the lake below.
II
Her conscious tail her joy declar'd;
The fair round face, the snowy beard,
 The velvet of her paws,
III
IV
V
VI
VII
Click here for complete poem
---
Poets Book of Days
December 26
Thomas Gray born, 1716

View Calendar of Days
Poetry Trivia
Question:
Who read a poem at Bill Clinton's presidential inauguration in 1993?
Answer

Only the second poet to be asked to read at a presidential inauguration, Maya Angelou read her poem, "On the Pulse of Morning," which she wrote for the occasion. The first poet asked to read at an inauguration was Robert Frost, who read at Kennedy's inauguration.

Previous Trivia Questions