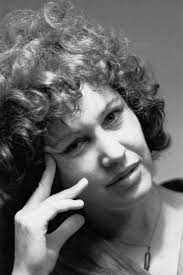 Dahlia Ravikovitch [or Ravikovich]
Dahlia Ravikovitch is considered one of the foremost Israeli poetic voices of the twentieth century. She was born on November 18, 1936 in Ramat Gan, a Tel Aviv suburb. Her father Levy was an engineer and her mother Michal

read more
Featured Poem
Delight
1
There did I know a delight beyond all delight,
And it came to pass upon the Sabbath day
As tree boughs reached for the sky with all their might.
Round and round like a river streamed the light,
5
And the wheel of the eye craved the sunwheel that day.
Then did I know a delight beyond all delight.
The heads of the bushes blazed, insatiable bright
Sunlight striking the waves, igniting the spray.
It would swallow my head like a golden orange, that light.
Click here for complete poem
Poets Book of Days
November 18
Wyndham Lewis born, 1882

View Calendar of Days
Poetry Trivia
Question:
Famously misattributed to Plato (by General MacArthur among others), the quote "Only the dead have seen an end to war" was actually written by whom?
Answer

George Santayana wrote this in Soliloquies in England and Later Soliloquies published in 1922.

Previous Trivia Questions