Click on the icons on the right for a free smartphone app for the featured poem and trivia!
Follow updates on Twitter and Facebook.
Take the Granger's Guided Tour Here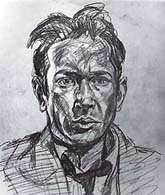 E. E. (Edward Estlin) Cummings
E. E. Cummings, American poet, was born in Cambridge, Mass., and graduated from Harvard in 1915. His poetry, noted for its eccentricities of typography, language, and punctuation, usually seeks to convey a joyful, living

read more
Featured Poem
Your little voice / Over the wires came leaping
1
your little voice
Over the wires came leaping
and i felt suddenly
dizzy
5
With the jostling and shouting of merry flowers
wee skipping high-heeled flames
courtesied before my eyes
or twinkling over to my side
Looked up
Click here for complete poem
---
Poets Book of Days
March 10
Thomas Gray departs for a Grand Tour of continental Europe with gothic novelist Horace Walpole, this day in 1739.

View Calendar of Days
Poetry Trivia
Question:
Whose famous last words were "All right then, I'll say it: Dante makes me sick"?
Answer

Spanish poet and playwright Lope de Vega.

Previous Trivia Questions