Click on the icons on the right for a free smartphone app for the featured poem and trivia!
Follow updates on Twitter and Facebook.
Take the Granger's Guided Tour Here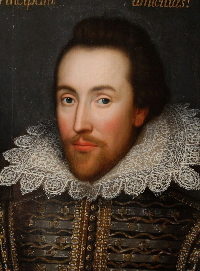 William Shakespeare
In spite of his eminence as the greatest English poet—and perhaps the greatest poet anywhere, ever—we know relatively little about Shakespeare's life. He came from Stratford-upon-Avon, where his father was a prominent

read more
Featured Poem
Sonnet 98
1
From you have I been absent in the spring,
When proud-pied April dress'd in all his trim
Hath put a spirit of youth in every thing,
That heavy Saturn laugh'd and leap'd with him.
5
Yet nor the lays of birds nor the sweet smell
Of different flowers in odour and in hue
Could make me any summer's story tell,
Or from their proud lap pluck them where they grew,
Nor did I wonder at the lily's white,
Click here for complete poem
---
Poets Book of Days
April 23
It is widely held that William Shakespeare was born this day in 1564. It is a matter of historical record that he did die on this day, 1616

View Calendar of Days
Poetry Trivia
Question:
This is one poet's epitaph: "The poetic genius of my country found me at the plough and threw her inspiring mantle over me. She bade me sing the loves, the joys, the rural scenes and rural pleasures of my native soil, in my native tongue. I tuned my wild, artless notes as she inspired" Whose is it?
Answer


Previous Trivia Questions