Granger's is acknowledged as an inspiring site for poets and poetry lovers here
Follow updates on Twitter and Facebook.
Take the Granger's Guided Tour Here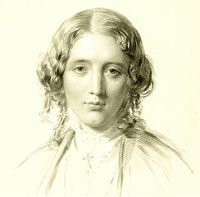 Harriet Beecher Stowe
Harriet Beecher Stowe was born on June 14th, 1811, in Litchfield, Connecticut, the seventh child of Lyman and Roxana Beecher. Several of her siblings gained national prominence in letters and the ministry, including

read more
Featured Poem
Better Life, The
1
It lies around us like a cloud
 A world we do not see,
Yet the sweet closing of an eye
 May bring us there to be
5
Its gentle breezes fan our cheek
 Amid our wordly cares
Its gentle voices whisper love
 And mingle with our prayers
Sweet souls around us watch us still
Click here for complete poem
---
Poets Book of Days
July 1
Harriet Beecher Stowe died, 1896

View Calendar of Days
Poetry Trivia
Question:
What New England Puritan and occasional poet called Homer "one of the greatest apostles the devil ever had in the world"?
Answer


Previous Trivia Questions