Granger's is acknowledged as an inspiring site for poets and poetry lovers here
Follow updates on Twitter and Facebook.
Take the Granger's Guided Tour Here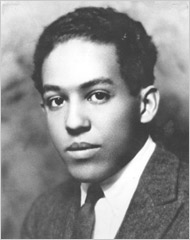 Langston Hughes
American poet and central figure of the Harlem Renaissance, Langston Hughes was born

read more
Featured Poem
Success
1
Here I sit with my belly full
And he who might have been my brother
Walks hungry in the rain.
Here I sit with my belly full
5
And she I might have loved
Seeks someone in the shadows
To whom she may sell her body.
Here I sit with my belly full,
No longer in the rain,
Click here for complete poem
---
Poets Book of Days
February 1
Galway Kinnell born, 1927

View Calendar of Days
Poetry Trivia
Question:
What poet coined the phrase "The Lost Generation," refering to the generation of expatriot American writers who wrote in the years between the First World War and the Depression?
Answer

Gertrude Stein. Ernest Hemingway attributes the phrase to her in his memoir A Moveable Feast.

Previous Trivia Questions