Follow updates on Twitter and Facebook.
Take the Granger's Guided Tour here
We celebrate Poetry Month in April with the second annual Granger's Poetry Contest for grades 9-12. See the
rules here
.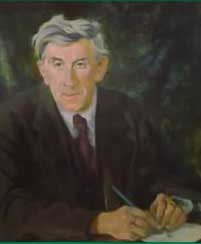 Austin Clarke
Considered one of the most important Irish poets to come along after Yeats, Austin Clarke was born May 9th, 1896, in Dublin. He attended Belvedere College and then University College, where he studied with such

read more
Featured Poem
Aisling
1
At morning from the coldness of Mount Brandon,
The sail is blowing half-way to the light;
And islands are so small, a man may carry
Their yellow crop in one cart at low tide.
5
Sadly in thought, I strayed the mountain grass
To hear the breezes following their young
And by the furrow of a stream, I chanced
To find a woman airing in the sun.
Click here for complete poem
---
Poets Book of Days
March 19
William Allingham born, 1824

View Calendar of Days
Poetry Trivia
Question:
What was Alexander Pope's famous advice to aspiring poets?
Answer

"Keep your piece nine years." The advice appears in the "Epistle to Dr. Arbuthnot," where Pope bemoans the many poetasters who seek his advice on their poems. This mirrors the advice given by Horace in his "Ars Poetica."

Previous Trivia Questions