Granger's is acknowledged as an inspiring site for poets and poetry lovers here
Follow updates on Twitter and Facebook.
Take the Granger's Guided Tour Here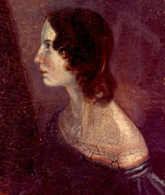 Emily Brontë
Emily Jane Brontë was born July 30, 1818 at Thornton in Yorkshire, the fifth of six children. Both her parents had literary inclinations. The Reverend Patrick Brontë published two

read more
Featured Poem
How loud the storm sounds round the Hall!
1
How loud the storm sounds round the Hall!
From arch to arch, from door to door,
Pillar and roof and granite wall
Rock like a cradle in its roar.
5
That elm tree by the haunted well
Greets no returning summer skies:
Down with a rush the giant fell,
And stretched athwart the path it lies.
Hardly had passed the funeral train,
Click here for complete poem
---
Poets Book of Days
July 30
Yves Bonnefoy born, 1923

View Calendar of Days
Poetry Trivia
Question:
What American Modernist poet considered the international success of T.S. Eliot's "The Waste Land" to be "the great catastrophe to our letters"?
Answer


Previous Trivia Questions