Granger's is acknowledged as an inspiring site for poets and poetry lovers here
Follow updates on Twitter and Facebook.
Take the Granger's Guided Tour Here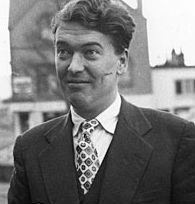 Kingsley Amis
Kingsley Amis was born on April 16, 1922, in Clapham Common in South London, the only child of lower-middle-class parents. Early on he showed an interest in writing, and he was a keen student of literature,

read more
Featured Poem
Ever-Fixed Mark, An
1
Years ago, at a private school
Run on traditional lines,
One fellow used to perform
Prodigious feats in the dorm;
5
His quite undevious designs
Found many a willing tool.
On the rugger field, in the gym,
Buck marked down at his leisure
The likeliest bits of stuff;
Click here for complete poem
---
Poets Book of Days
October 22
Charles Marie Rene Leconte de Lisle born, 1818

View Calendar of Days
Poetry Trivia
Question:
What three poets produced the literary review L'étudiant Noir (The Black Student),a forerunner of the Négritude movement?
Answer

Aimé Césaire, Léopold Sédar Senghor and Léon Damas.

Previous Trivia Questions