Follow updates on Twitter and Facebook.
Take the Granger's Guided Tour here
Help us improve Granger's by taking our user survey
here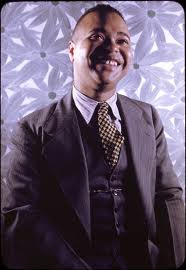 Countee Cullen
A degree of mystery surrounds Cullen's beginnings. Although he later claimed New York City as his birthplace, he was probably born as Countee Porter in Louisville, Kentucky (Baltimore has also been

read more
Featured Poem
For an Evolutionist and His Opponent
Imitated from Du Bellay
1
You tiny flames of blue,
Whose naïve barbaric hue
 On grey rock-slope,
Seem like the sky let through
5
A painted window new,
 Grant me your hope!
I weave thin coronets,
Slim madrigalettes,
 Loose coronals of rhyme,
Click here for complete poem
---
Poets Book of Days
February 8
Elizabeth Bishop born, 1911.

View Calendar of Days
Poetry Trivia
Question:
What twelfth century troubadour is named for his wide travels?
Answer

Cercamon (c.1137-52). In Occitan the name means "world searcher." His given name is lost to history.

Previous Trivia Questions