Granger's is acknowledged as an inspiring site for poets and poetry lovers here
Follow updates on Twitter and Facebook.
Take the Granger's Guided Tour Here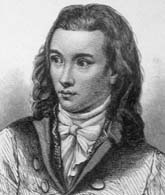 "Novalis"
The German poet Novalis, whose real name was Friederich von Hardenberg, studied philosophy under Schiller, Schlegel, and Fichte, and was especially influenced by Fichte. He later studied geology. Novalis was one of the great

read more
Featured Poem
Hymn of Novalis
1
I have seen thee in the visions of the master-minds of time,
In a thousand pictured glories of a loveliness sublime;
And with these, and sweet brain-fancies, would my longing fondly weave thee;
But, to mortal eyes thou comest not, as my soul did once perceive thee:
5
And since then, the roar and turmoil of the weary world is stilled,
And with harmonies of heaven hath my daily life been thrilled.
Click here for complete poem
---
Poets Book of Days
October 5
Edmund Spenser writes his letter about poetry to Gabriel Harvey in 1579.

View Calendar of Days
Poetry Trivia
Question:
What German Romantic wrote a poem about a blue flower, the emblem of German Romanticism?
Answer

While "Novalis" (Georg Philipp Friedrich Freiherr von Hardenberg) wrote of the blue flower in his unfinished novel Heinrich von Ofterdingen , it was Joseph Freiherr von Eichendorff who wrote the poem "Die blaue Blume" ("The Blue Flower").

Previous Trivia Questions