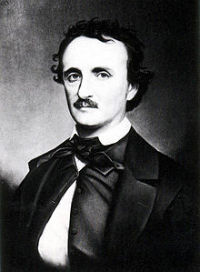 Edgar Allan Poe
Poe's life was short; he was evidently an undiagnosed diabetic, on whom alcohol had a terrible effect (although, as one student of his life has remarked, the sad thing is less a matter of Poe's drinking so much

read more
Featured Poem
To Helen
1
Helen, thy beauty is to me
Like those Nicéan barks of yore,
That gently, o'er a perfumed sea,
The weary, way-worn wanderer bore
5
To his own native shore.
On desperate seas long wont to roam,
Thy hyacinth hair, thy classic face,
Thy Naiad airs have brought me home
To the glory that was Greece,
Click here for complete poem
---
Poets Book of Days
January 19
Edgar Allan Poe born, 1809

View Calendar of Days
Poetry Trivia
Question:
What 19th-century American poet coined the phrase "The hand that rocks the cradle is the hand that rules the world"?
Answer

William Ross Wallace coined the phrase in a poem of the same name ("The Hand That Rocks the Cradle is the Hand That Rules the World.") Less well-known today, Wallace was a good friend of Edgar Allan Poe, and his poetry was popular in its time. Today he is largely remembered for the aforementioned phrase, if at all.

Previous Trivia Questions