Granger's is acknowledged as an inspiring site for poets and poetry lovers here
Follow updates on Twitter and Facebook.
Take the Granger's Guided Tour Here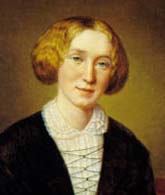 George Eliot
George Eliot, one of the greatest novelists in England's history, was born Mary Ann Evans in Warwickshire in 1819. Her father, Robert Evans, was overseer to Arbury Hall, the Newdigate family's seven-thousand acre

read more
Featured Poem
'Mid My Gold-Brown Curls
1
'Mid my gold-brown curls
 There twined a silver hair:
I plucked it idly out
And scarcely knew 'twas there.
5
Coiled in my velvet sleeve it lay
And like a serpent hissed:
"Me thou canst pluck and fling away,
 One hair is lightly missed;
But how on that near day
Click here for complete poem
---
Poets Book of Days
November 22
John Dryden composes "A Song for St. Cecilia's Day" in 1687.

View Calendar of Days
Poetry Trivia
Question:
Whose journal did Beatrix Potter, author of Peter Rabbit , discover in a barn in 1931 and subsequently have published?
Answer

The journals of Dorothy Wordsworth were unpublished until 1933.

Previous Trivia Questions