Granger's is acknowledged as an inspiring site for poets and poetry lovers here
Follow updates on Twitter and Facebook.
Take the Granger's Guided Tour Here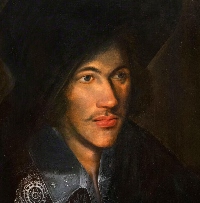 John Donne
Donne began as a Roman Catholic but later, while studying law, joined the Church of England. He grew up in an age that took religion very seriously indeed, and among his contemporaries are two poets who maintained their

read more
Featured Poem
Nocturnal upon Saint Lucy's Day, Being the Shortest Day, A
1
'Tis the year's midnight, and it is the day's,
Lucy's, who scarce seven hours herself unmasks;
The sun is spent, and now his flasks
Send forth light squibs, no constant rays;
5
The world's whole sap is sunk;
The general balm the hydroptic earth hath drunk,
Whither, as to the bed's-feet, life is shrunk,
Dead and interred; yet all these seem to laugh,
Compared with me, who am their epitaph.
Click here for complete poem
---
Poets Book of Days
December 21
William Wordsworth takes possession of Dove Cottage in England's Lake District in 1799.

View Calendar of Days
Poetry Trivia
Question:
What poem furnished the title of a movie about alcoholics starring Jack Lemmon and Lee Remick?
Answer

Days of Wine and Roses took its title from Ernest Dowson's (1867-1900) "Vitae Summa Brevis Spem Nos Vetat Incohare Longam." ("They are not long, the days of wine and roses: / Out of a misty dream.")

Previous Trivia Questions