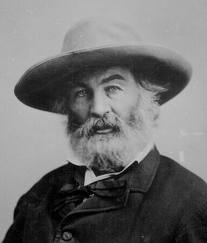 Walt Whitman
Walt Whitman was born in West Hills, N.Y. Considered by many to be the greatest of all American poets, Walt Whitman celebrated the freedom and dignity of the individual and sang the praises of

read more
Featured Poem
Has any one supposed it lucky to be born?
1
Has any one supposed it lucky to be born?
I hasten to inform him or her it is just as lucky to die, and I know it.
I pass death with the dying and birth with the new-wash'd babe, and am not contain'd between my hat and boots,
And peruse manifold objects, no two alike and every one good,
5
The earth good and the stars good, and their adjuncts all good.
I am not an earth nor an adjunct of an earth,
I am the mate and companion of people, all just as immortal and fathomless as myself.
(They do not know how immortal, but I know.)
Every kind for itself and its own, for me mine male and female,
Click here for complete poem
---
Poets Book of Days
May 31
Walt Whitman born, 1819

View Calendar of Days
Poetry Trivia
Question:
To whom is Samuel Taylor Coleridge's "Dejection: an Ode" addressed?
Answer

Sara Huchinson, William Wordsworth's sister-in-law. Coleridgewas hopelessly in love with her for some ten years. "Dejection: an Ode" was originally a letter in verse to her.

Previous Trivia Questions