Follow updates on Twitter and Facebook.
Take the Granger's Guided Tour here
We celebrate Poetry Month in April with the second annual Granger's Poetry Contest for grades 9-12. See the
rules here
.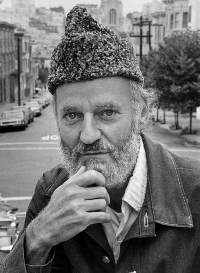 Lawrence Ferlinghetti
The American author and publisher Ferlinghetti was born in Yonkers, N.Y. His was a disruptive childhood, marked first by his father's death just a few months before his birth, which led to his mother's breakdown and

read more
Featured Poem
Underwear
1
I didn't get much sleep last night
thinking about underwear
Have you ever stopped to consider
underwear in the abstract
5
When you really dig into it
some shocking problems are raised
Underwear is something
we all have to deal with
Everyone wears
Click here for complete poem
---
Poets Book of Days
March 24
Charlotte Mew died, 1928

View Calendar of Days
Poetry Trivia
Question:
What English meter, favored by Henry Howard, Earl of Surrey, is named for the inconsistent number of eggs in an Elizabethan dozen?
Answer

The Poulter's Measure. It varies between 12 and 14 syllables, just as "a dozen eggs" could vary between 12 to 14 eggs in Surrey's day.

Previous Trivia Questions