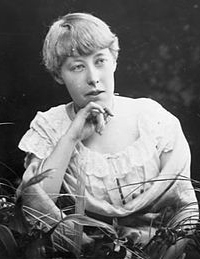 Katharine Tynan Hinkson
The Irish poet and novelist Katharine Tynan Hinkson was born in Dublin on Janurary 23, 1861. She was the fifth of the twelve children of Andrew Cullen Tynan, a gentleman farmer who owned Portobello Dairies

read more
Featured Poem
Leaves
1
Myriads and myriads plumed their glittering wings,
As fine as any bird that soars and sings,
As bright as fireflies or the dragon-flies
Or birds of paradise.
5
Myriads and myriads waved their sheeny fans,
Soft as the dove's breast, or the pelican's;
And some were gold, and some were green, and some
Pink-lipped, like apple-bloom.
A low wind tossed the plumage all one way,
Click here for complete poem
---
Poets Book of Days
October 26
Allen Tate's "The Subway" is published in The New Republic in 1939.

View Calendar of Days
Poetry Trivia
Question:
What poet's failed business venture involved the breeding of civet-cats for perfume?
Answer

Among his many unsuccessful business ventures, which included a wholesale hosiery business and a brief stint as a brick manufacturer, Daniel Defoe undertook the cornering of the civet-cat market.

Previous Trivia Questions