Follow updates on Twitter and Facebook.
Take the Granger's Guided Tour here
Read the winning poems in Granger's Poetry Month contest
here
.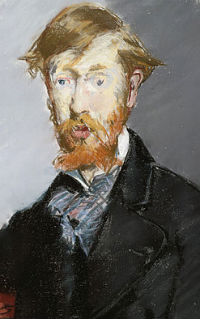 George Moore
The Irish novelist and man of letters George Moore was born in County Mayo on February 24, 1852. His parents, George and Mary, were aristocrats who owned a large estate and a mansion named Moore Hall. Young George

read more
Featured Poem
Rondo
1
Did I love thee? I only did desire
To hold thy body unto mine,
And smite it with strange fire
Of kisses burning as wine,
5
And catch thy odorous hair, and twine
It through my fingers amorously.
Did I love thee?
Did I love thee? I only did desire
To drink the perfume of thy blood
Click here for complete poem
---
Poets Book of Days
February 24
George Moore born, 1852

View Calendar of Days
Poetry Trivia
Question:
What was the pen name of the Chilean Noble Laureate Ricardo Eliecer Neftalí Reyes Basoalto?
Answer


Previous Trivia Questions