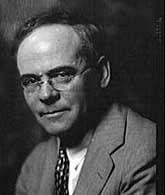 Edgar Lee Masters
The American poet and biographer Masters was born in Garnett, Kansas. He maintained a successful law practice in Chicago from 1892 to 1920. Masters's Spoon River Anthology (1915), a collection of epitaphs in free verse

read more
Featured Poem
Amanda Barker
1
Henry got me with child,
Knowing that I could not bring forth life
Without losing my own.
In my youth therefore I entered the portals of dust.
5
Traveler, it is believed in the village where I lived
That Henry loved me with a husband's love
But I proclaim from the dust
That he slew me to gratify his hatred.
Click here for complete poem
---
Poets Book of Days
August 23
William Ernest Henley born, 1849

View Calendar of Days
Poetry Trivia
Question:
What poem provided the title for Maya Angelou's memoir I Know Why the Caged Bird Sings ?
Answer

Paul Laurence Dunbar's "Sympathy."

Previous Trivia Questions