Granger's is acknowledged as an inspiring site for poets and poetry lovers here
Follow updates on Twitter and Facebook.
Take the Granger's Guided Tour Here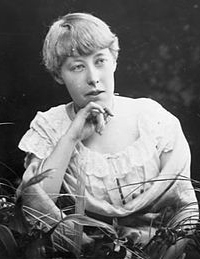 Katharine Tynan Hinkson
The Irish poet and novelist Katharine Tynan Hinkson was born in Dublin on Janurary 23, 1861. She was the fifth of the twelve children of Andrew Cullen Tynan, a gentleman farmer who owned Portobello Dairies

read more
Featured Poem
Menace
1
I came into your room and spoke.
 Sudden I knew you were not there.
The easy, common sentence broke
 Against the unanswering air.
5
My heart shook like a frightened bird,
 And to my ear the terror said,
Where nothing spoke and nothing stirred,—
 Dear God, if he were dead!
I heard your footstep in the house,
Click here for complete poem
---
Poets Book of Days
July 31
Francis Ledwidge died, 1917

View Calendar of Days
Poetry Trivia
Question:
What modernist poet did Gertrude Stein derisively call "The Village Explainer"?
Answer


Previous Trivia Questions