Granger's is acknowledged as an inspiring site for poets and poetry lovers here
Follow updates on Twitter and Facebook.
Take the Granger's Guided Tour Here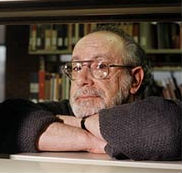 Albert Goldbarth
Contemporary poet Albert Goldbarth has been called the "mad scientist of poetry" for his poems which forge connections between such disparate subjects as the Sphinx, Renaissance painting, Yiddish folklore, 50s

read more
Featured Poem
All Totaled, The Sunlight That Strikes The Earth At Any Given Moment Weighs As Much As An Ocean Liner
1
Another day when work crews in the rubble discover,
the feet of a child—three years old, they guess—smashed
by a fallen lintel, as flat and dry by now
as two corsages from a tomb. Another night
5
and small explosions: small, but—big enough: a kind
of strong caffeine by which the darkness keeps itself
awake. Let's have the sun negotiate a peace
with war-torn nation-states like these. I think the sun
might be successful. After all, its light is neutral:
Click here for complete poem
---
Poets Book of Days
November 24
E. A. Robinson's "Mr. Flood's Party" is published in The Nation in 1920.

View Calendar of Days
Poetry Trivia
Question:
Who penned the first complete English translations of The Iliad and The Odyssey ?
Answer

George Chapman published his translations in 1616. Keats loved these translations. (See his "On First Looking into Chapman's Homer.")

Previous Trivia Questions