Follow updates on Twitter and Facebook.
Take the Granger's Guided Tour here
In celebration of National Poetry Month in April, we are pleased to present the winning poems in our second annual Granger's Poetry Contest
here
.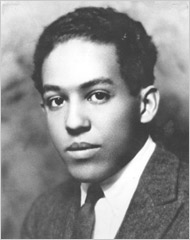 Langston Hughes
American poet and central figure of the Harlem Renaissance, Langston Hughes was born on February 1, 1902 in Joplin, Missouri, the only child of James Nathanial Hughes and Carry Langston. His maternal grandmother, Mary

read more
Featured Poem
Demand
1
Listen!
Dear dream of utter aliveness—
Touching my body of utter death—
Tell me, O quickly! dream of aliveness,
5
The flaming source of your bright breath.
Tell me, O dream of utter aliveness—
Knowing so well the wind and the sun—
  Where is this light
  Your eyes see forever?
Click here for complete poem
---
Poets Book of Days
May 22
W. H. Auden's "Spain" is published in The Saturday Review this day in 1937.

View Calendar of Days
Poetry Trivia
Question:
Sir Thomas Wyatt often found himself in trouble for his relationship with Henry VIII's second wife Anne Boleyn, yet he always managed to escape with his head. What other English sonneteer, related to Henry's fifth wife Catherine Howard, was not so fortunate?
Answer

Henry Howard, Earl of Surrey. After Catherine was executed for adultery, Surrey, her cousin, was also executed for having incorporated the royal seal into his coat of arms.

Previous Trivia Questions