Granger's is acknowledged as an inspiring site for poets and poetry lovers here
Follow updates on Twitter and Facebook.
Take the Granger's Guided Tour Here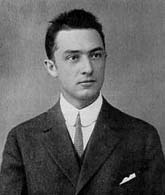 William Carlos Williams
American poet and physician William Carlos Williams was born in Rutherford, N.J. and educated in Geneva, Switzerland, the University of Pennsylvania (M.D., 1906), and the University of Leipzig, where he studied pediatrics.

read more
Featured Poem
Winds, The
1
flowing edge to edge
their clear edges meeting—
the winds of this northern March—
blow the bark from the trees
5
the soil from the field
the hair from the heads of
girls, the shirts from the backs
of the men, roofs from the
houses, the cross from the
Click here for complete poem
---
Poets Book of Days
March 4
William Carlos Williams died, 1963

View Calendar of Days
Poetry Trivia
Question:
What poets are most closely associated with the poetry movement simply called "The Movement"?
Answer

Philip Larkin, Donald Davie, and Thom Gunn among others.

Previous Trivia Questions