Granger's is acknowledged as an inspiring site for poets and poetry lovers here
Follow updates on Twitter and Facebook.
Take the Granger's Guided Tour Here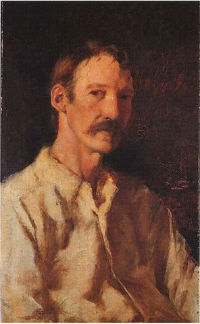 Robert Louis Stevenson
A rather spoiled only child who went by the names "Smoutie" (Scots for "small fry") or "Lewis," Stevenson grew up in Edinburgh, Scotland. Stevenson's parents expected him to enter a profession, preferably

read more
Featured Poem
To Mrs. Will H. Low
1
Even in the bluest noonday of July
There could not run the smallest breath of wind
But all the quarter sounded like a wood;
And in the chequered silence, and above
5
The hum of city cabs that sought the Bois,
Suburban ashes shivered into song.
A patter and a chatter and a chirp
And a long dying hiss—it was as though
Starched old brocaded dames through all the house
Click here for complete poem
---
Poets Book of Days
July 7
George Oppen died, 1984

View Calendar of Days
Poetry Trivia
Question:
William Luce wrote a play called The Belle of Amherst about which American poet?
Answer


Previous Trivia Questions