Granger's is acknowledged as an inspiring site for poets and poetry lovers here
Follow updates on Twitter and Facebook.
Take the Granger's Guided Tour Here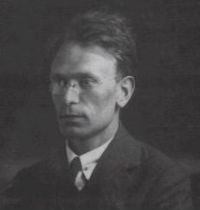 F. S. (Frank Stewart) Flint
F. S. Flint was born on December 19th, 1885, in Islington, London, the son of a traveling salesman and the second of 12 children. Though he was forced to abandon formal schooling at the age of 13 in

read more
Featured Poem
Cones
1
The blue mist of after-rain
Fills all the trees;
The sunlight gilds the tops
Of the poplar spires, far off,
5
Behind the houses.
Here a branch sways
And there
  a sparrow twitters.
The curtain's hem, rose-embroidered,
Click here for complete poem
---
Poets Book of Days
December 19
Duncan Campbell Scott died, 1947

View Calendar of Days
Poetry Trivia
Question:
What long-running television series has featured guest appearances of both former Paris Review editor George Plimpton and former Poet Laureate Robert Pinsky?
Answer

The Simpsons .

Previous Trivia Questions