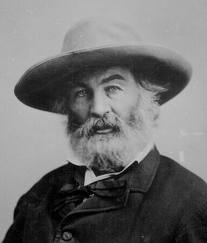 Walt Whitman
Walt Whitman was born in West Hills, N.Y. Considered by many to be the greatest of all American poets, Walt Whitman celebrated the freedom and dignity of the individual and sang the praises of

read more
Featured Poem
To the States, To Identify the 16th, 17th, or 18th Presidentiad
1
to identify the 16 th , 17 th , or 18 th presidentiad
Why reclining, interrogating? why myself and all drowsing?
What deepening twilight—scum floating atop of the waters,
Who are they as bats and night-dogs askant in the capitol?
5
What a filthy Presidentiad! (O South, your torrid suns! O North, your arctic freezings!)
Are those really Congressmen? are those the great Judges? is that the President?
Then I will sleep awhile yet, for I see that these States sleep, for reasons;
(With gathering murk, with muttering thunder and lambent shoots we all duly awake,
South, North, East, West, inland and seaboard, we will surely awake.)
Click here for complete poem
---
Poets Book of Days
February 20
T. S. Eliot's "Burnt Norton" is published by Faber & Faber in 1941.

View Calendar of Days
Poetry Trivia
Question:
What 1854 military action, described by a French observer as "C'est magnifique, mais ce n'est pas la guerre" (It is magnificent, but it is not war), was immortalized in a famous poem by Lord Alfred Tennyson)?
Answer

"The Charge of the Light Brigade."

Previous Trivia Questions