Granger's is acknowledged as an inspiring site for poets and poetry lovers here
Follow updates on Twitter and Facebook.
Take the Granger's Guided Tour Here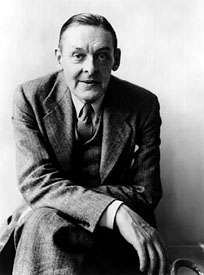 T. S. (Thomas Stearns) Eliot
Thomas Stearns Eliot was born in St. Louis, Missouri, on the banks of the Mississippi River, and later spoke of his background as, variously, Southwestern or Midwestern (not very precise terms); even so, his deeper

read more
Featured Poem
1. The Burial of the Dead
i. the burial of the dead
1
April is the cruellest month, breeding
Lilacs out of the dead land, mixing
Memory and desire, stirring
Dull roots with spring rain.
5
Winter kept us warm, covering
Earth in forgetful snow, feeding
A little life with dried tubers.
Summer surprised us, coming over the Starnbergersee
With a shower of rain; we stopped in the colonnade,
Click here for complete poem
---
Poets Book of Days
April 28
T.S. Eliot becomes an editor at Faber & Faber freeing him from a job at Lloyd's bank on this day, in 1925.

View Calendar of Days
Poetry Trivia
Question:
What famous American poet was Nathaniel Hawthorne's classmate at Bowdoin College?
Answer


Previous Trivia Questions