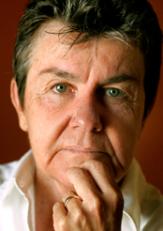 Kay Ryan
Named Poet Laureate in 2008, Kay Ryan is known for her compact, witty, and yet highly-accessible poetry. Her work has been likened to that of Marianne Moore and Emily Dickinson. Ryan's poems work to

read more
Featured Poem
Houdini
1
Each escape
involved some art,
some hokum, and
at least a brief
5
incomprehensible
exchange between
the man and metal
during which the
chains were not
Click here for complete poem
---
Poets Book of Days
September 21
Ernest Fenollosa died, 1908

View Calendar of Days
Poetry Trivia
Question:
For what does Oulipo stand?
Answer

Ouvroir de littérature potentielle (Workshop of potential literature). Founded by Raymond Queneau, with its members including Italo Calvino, Oskar Pastior and Jacques Roubaud, Oulipo believed in composing its literary works under arbitrary constraints.

Previous Trivia Questions