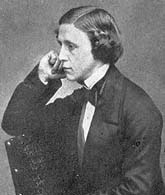 Lewis Carroll
To form his celebrated pseudonym, Dodgson dropped his last name, reversed the order of his first two names, and converted them from rather dense Northern forms to something more Latinate. He also transformed his complex

read more
Featured Poem
Jabberwocky
1
'Twas brillig, and the slithy toves
Did gyre and gimble in the wabe;
All mimsy were the borogoves,
And the mome raths outgrabe.
5
"Beware the Jabberwock, my son!
The jaws that bite, the claws that catch!
Beware the Jubjub bird, and shun
The frumious Bandersnatch!"
He took his vorpal sword in hand:
Click here for complete poem
---
Poets Book of Days
January 27
Dante is sent in to political exile from Florence in 1302. He will never return. In "Paradiso" he reflects on his state of exile, writing: "How bitter another's bread is, thou shalt know / By tasting i

View Calendar of Days
Poetry Trivia
Question:
What American poet was convinced by Ezra Pound to found a press devoted to publishing Pound and his friends?
Answer

James Laughlin. In 1935 Laughlin founded New Directions in Prose and Poetry. Today, New Directions is one of the premier publishers of poetry in the United States.

Previous Trivia Questions