Granger's is acknowledged as an inspiring site for poets and poetry lovers here
Follow updates on Twitter and Facebook.
Take the Granger's Guided Tour Here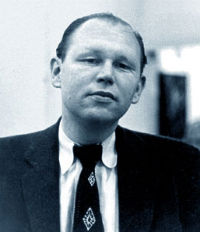 Jack Spicer
Along with Robert Duncan and Robin Blaser , Jack Spicer played a central role in the poetry movement that came to be known as the Berkeley Renaissance. Born in Los Angeles on January 30, 1925,

read more
Featured Poem
Central Park West
1
Along the walks the sweet queens walk their dogs
And dream of love and diamonds as they pass
And I could be a statue or a stone
As they walk by me dreaming of their gods.
5
Beside their path, an apple's thrown away,
I see that old erotic garden where
Our parents breathed the wasteful, loving air
Before the angry gardener changed his will.
The park has no room for that memory.
Click here for complete poem
---
Poets Book of Days
January 30
Jack Spicer born, 1925

View Calendar of Days
Poetry Trivia
Question:
What was Arthur Rimbaud's profession after he stopped writing poetry at the age of 20?
Answer

Rimbaud engaged in many business ventures, including being an arms dealer when he moved to Ethiopia.

Previous Trivia Questions