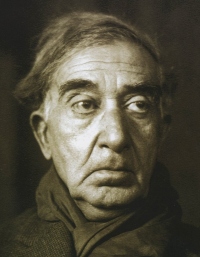 Constantine P. Cavafy
The poet Cavafy was born in Alexandria to Greek parents. After his father's death when Cavafy was a child, the family lost their fortune and social position. They lived for seven years in England, where Cavafy was greatly

read more
Featured Poem
In Despair
1
He's lost him completely. And he now tries to find
his lips in the lips of each new lover,
he tries in the embrace of each new lover
to convince himself that it's the same young man,
5
that it's to him he gives himself.
He's lost him completely, as though he never existed.
He wanted, his lover said, to save himself
from the tainted, sick form of sexual pleasure,
the tainted, shameful form of sexual pleasure.
Click here for complete poem
---
Poets Book of Days
June 24
Yves Bonnefoy born, 1923

View Calendar of Days
Poetry Trivia
Question:
What passionate relationship between poets in late nineteenth century France is dramatized in the movie Total Eclipse ?
Answer

The love affair between Paul Verlaine and Arthur Rimbaud

Previous Trivia Questions