Follow updates on Twitter and Facebook.
And now also on Instagram!

Take the Granger's Guided Tour here
Read the winning poems in the 2018 Granger's Poetry Contest
here
.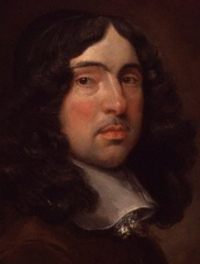 Andrew Marvell
Marvell was born in Yorkshire and educated at Cambridge. Like Edmund Waller, he was a Member of Parliament, and a busy political career saw him serving both the Cromwellians and the court of Charles

read more
Featured Poem
Garden, The
1
How vainly men themselves amaze
To win the palm, the oak, or bays,
And their incessant labors see
Crown'd from some single herb or tree,
5
Whose short and narrow-vergèd shade
Does prudently their toils upbraid;
While all flowers and all trees do close
To weave the garlands of repose!
Fair Quiet, have I found thee here,
Click here for complete poem
---
Poets Book of Days
August 16
Andrew Marvell died, 1678

View Calendar of Days
Poetry Trivia
Question:
What poet was called "The World's Greatest Living Observer" by Elizabeth Bishop?
Answer


Previous Trivia Questions