Follow updates on Twitter and Facebook.
Take the Granger's Guided Tour here
Help us improve Granger's by taking our user survey
here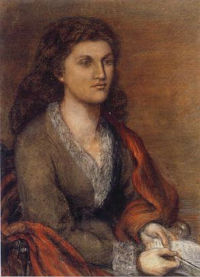 Mathilde Blind
Mathilde Blind was born Mathilde Cohen on March 21, 1841, in Mannheim, Germany, the second of two children of a banker and his second wife, Friederike Ettlinger. Her father died shortly after her birth and her mother

read more
Featured Poem
Passing Year, The
1
No breath of wind stirs in the painted leaves,
 The meadows are as stirless as the sky,
 Like a Saint's halo golden vapours lie
Above the restful valley's garnered sheaves.
5
The journeying Sun, like one who fondly grieves,
 Above the hills seems loitering with a sigh,
 As loth to bid the fruitful earth good-bye,
On these hushed hours of luminous autumn eves.
There is a pathos in his softening glow,
Click here for complete poem
---
Poets Book of Days
November 26
Robert Browning's Dramatic Lyrics is published in 1842.

View Calendar of Days
Poetry Trivia
Question:
Dubbed "the poet of the Revolution" and editor of the National Gazette , which poet was particularly disliked by President George Washington?
Answer

Friend of Thomas Jefferson, Philip Freneau was called a cur, rascal and dog by George Washington who was the object of many of Freneau's barbs for the Federalist Gazette of the United States ' rival paper.

Previous Trivia Questions