Granger's is acknowledged as an inspiring site for poets and poetry lovers here
Follow updates on Twitter and Facebook.
Take the Granger's Guided Tour Here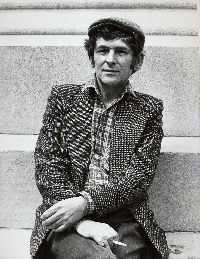 Michael Hartnett
Irish poet Michael Hartnett was born on September 18, 1941 in the small town of Croom, County Limerick, one of eight children born to Denis and Bridie Harnett (Hartnett's name was misspelled on his birth certificate,

read more
Featured Poem
Marban, a Hermit Speaks
1
For I inhabit a wood
unknown but to my God
my house of hazel and ash
as an old hut in a rath.
5
And my house small, not too small,
is always accessible:
women disguised as blackbirds
talk their words from its gable.
The stags erupt from rivers,
Click here for complete poem
---
Poets Book of Days
September 18
Michael Hartnett born, 1941

View Calendar of Days
Poetry Trivia
Question:
While Tu Fu wrote 12 poems to or about Li Po, how many did Li Po write about Tu Fu?
Answer

These T'ang Dynasty poets only met twice, once in 744 and once in 745. Li Po, by this time, was an established poet. Only one poem from Li Po to Tu Fu survives.

Previous Trivia Questions