Granger's is acknowledged as an inspiring site for poets and poetry lovers here
Follow updates on Twitter and Facebook.
Take the Granger's Guided Tour Here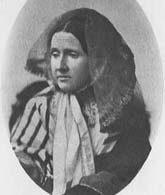 Julia Ward Howe
Julia Ward Howe may seem somewhat out of place in the company of poets whom one could consider more serious or professional or canonical. Like Francis Scott Key and Clement Moore, authors of "The Star-Spangled Banner" and

read more
Featured Poem
Dante
1
He wore an honest hatred on his sleeve,
Of red oppression and inhuman wrong;
Brief pause he made to question or to grieve,
But, singing his incomparable song,
5
Wove each great stanza of his life along.
His hands were pure from gold, his heart from guile,—
Could the fixed features deign to wear a smile,
It must have been the gala of some deed
Whose doer's guerdon rested in that meed
Click here for complete poem
---
Poets Book of Days
May 27
Julia Ward Howe born, 1819

View Calendar of Days
Poetry Trivia
Question:
What poets, from the earlier half of the eighteenth century, have been referred to as "proto-Romantics"?
Answer

Thomas Gray and William Collins. In contrast to the satirists who were their contemporaries, these poets wrote contemplative lyric poems in blank verse, prefiguring the works of William Wordsworth and Samuel Taylor Coleridge.

Previous Trivia Questions