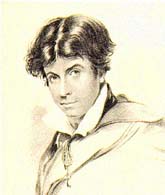 Leigh Hunt
Leigh Hunt, the essayist, critic, translator, poet, and friend to many of the greatest writers of the Romantic period, was born in 1784 in Southgate, England. His father, Isaac Hunt, an American lawyer turned Unitarian

read more
Featured Poem
Dearest Poets, The
1
W ere I to name, out of the times gone by,
The poets dearest to me, I should say,
Pulci for spirits, and a fine, free way;
Chaucer for manners, and close, silent eye;
5
Milton for classic taste, and harp strung high;
Spenser for luxury, and sweet, sylvan play;
Horace for chatting with, from day to day;
Shakespeare for all, but most, society.
But which take with me, could I take but one?
Click here for complete poem
---
Poets Book of Days
October 19
Edna St. Vincent Millay died, 1950

View Calendar of Days
Poetry Trivia
Question:
What poet took credit for discovering Langston Hughes in 1925?
Answer


Previous Trivia Questions