Granger's is acknowledged as an inspiring site for poets and poetry lovers here
Follow updates on Twitter and Facebook.
Take the Granger's Guided Tour Here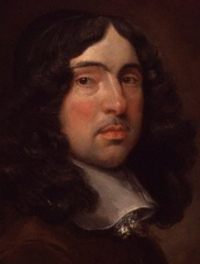 Andrew Marvell
Marvell was born in Yorkshire and educated at Cambridge. Like Edmund Waller, he was a Member of Parliament, and a busy political career saw him serving both the Cromwellians and the court of Charles

read more
Featured Poem
Dialogue between the Soul and [the] Body, A
1
soul: O who shall from this dungeon raise
A soul enslaved so many ways?
With bolts of bones, that fettered stands
In feet; and manacled in hands:
5
Here blinded with an eye; and there
Deaf with the drumming of an ear;
A soul hung up, as 'twere, in chains
Of nerves, and arteries, and veins;
Tortured, besides each other part,
Click here for complete poem
---
Poets Book of Days
March 31
John Donne died, 1631

View Calendar of Days
Poetry Trivia
Question:
What British poet was confined to an insane asylum for harassing passersby in Hyde Park and demanding that they recite prayers with him?
Answer

Christopher Smart. Samuel Johnson visited Smart in the asylum, famously remarking: "He insisted on people praying with him; and I'd as lief pray with Kit Smart as any one else."

Previous Trivia Questions