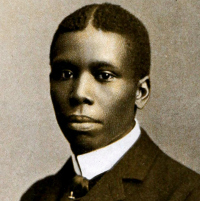 Paul Laurence Dunbar
The most popular and significant African American poet of the nineteenth century, Paul Laurence Dunbar's popularity was so great that it is difficult to number the reprints of his many

read more
Featured Poem
Summer's Night, A
1
The night is dewy as a maiden's mouth,
The skies are bright as are a maiden's eyes,
Soft as a maiden's breath the wind that flies
Up from the perfumed bosom of the South.
5
Like sentinels, the pines stand in the park;
And hither hastening, like rakes that roam,
With lamps to light their wayward footsteps home,
The fireflies come stagg'ring down the dark.
Click here for complete poem
---
Poets Book of Days
June 27
Paul Laurence Dunbar born, 1872

View Calendar of Days
Poetry Trivia
Question:
What singer/songwriter famously wrote the verse "Ezra Pound and T.S. Eliot fighting in the captain's tower"?
Answer

Ezra Pound and T.S. Eliot are mentioned in Bob Dylan's song "Desolation Row."

Previous Trivia Questions