Granger's is acknowledged as an inspiring site for poets and poetry lovers here
Follow updates on Twitter and Facebook.
Take the Granger's Guided Tour Here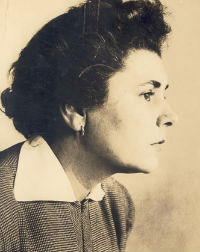 Elizabeth Bishop
Though she would publish only 101 poems in her lifetime, Elizabeth Bishop would become one of the most beloved of American poets. She was born in Worcester, Massachusetts on February 8th, 1911, to

read more
Featured Poem
From Trollope's Journal
1
As far as statues go, so far there's not
much choice: they're either Washingtons
or Indians, a whitewashed, stubby lot,
His country's Father or His foster sons.
5
The White House in a sad, unhealthy spot
just higher than Potomac's swampy brim,
—they say the present President has got
ague or fever in each backwoods limb.
On Sunday afternoon I wandered,—rather,
Click here for complete poem
---
Poets Book of Days
October 6
Robert Frost's "Two Tramps in Mud Time" appears in The Saturday Review in 1934.

View Calendar of Days
Poetry Trivia
Question:
Who claimed Apollo had admonished him to "fatten his flock, but keep his muse slender"?
Answer

Callimachus wrote of receiving this advice about crafting shorter lyric poems instead of the imitations of Homer that were popular at the time.

Previous Trivia Questions