Granger's is acknowledged as an inspiring site for poets and poetry lovers here
Follow updates on Twitter and Facebook.
Take the Granger's Guided Tour Here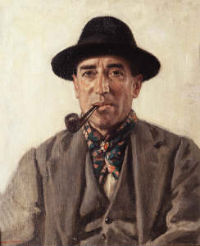 W. H. (William Henry) Davies
William Henry Davies (pronounced "Davis") was born in Monmouthshire, Wales, near the border with England. His family was poor, and he was apprenticed to a picture-framer at age 14. When he was 20 he moved to

read more
Featured Poem
When on a Summer's Morn
1
W hen on a summer's morn I wake,
 And open my two eyes,
Out to the clear, born-singing rills
 My bird-like spirit flies;
5
To hear the Blackbird, Cuckoo, Thrush,
 Or any bird in song;
And common leaves that hum all day,
 Without a throat or tongue.
And when Time strikes the hour for sleep,
Click here for complete poem
---
Poets Book of Days
July 3
William Henry Davies born, 1871

View Calendar of Days
Poetry Trivia
Question:
Why did a number of prestigious Boston elders affix their signatures as witnesses to the title page of Phillis Wheatley's book of poems?
Answer

It was generally held that African-Americans were incapable of such an accomplishment.

Previous Trivia Questions