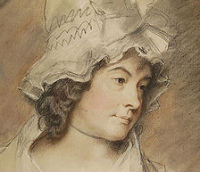 Charlotte Smith
Charlotte Smith has been called the first true Romantic poet and novelist. Jane Austen, Wordsworth, Coleridge, and Keats were influenced by her work, and her volume Elegiac

read more
Featured Poem
He may be envied, who with tranquil breast
1
He may be envied, who with tranquil breast
 Can wander in the wild and woodland scene,
When Summer's glowing hands have newly drest
 The shadowy forests, and the copses green;
5
Who, unpursued by care, can pass his hours
 Where briony and woodbine fringe the trees,
 On thymy banks reposing, while the bees
Murmur "their fairy tunes in praise of flowers;"
 Or on the rock with ivy clad, and fern
Click here for complete poem
---
Poets Book of Days
May 4
Charlotte Smith born, 1749

View Calendar of Days
Poetry Trivia
Question:
What American poet and journalist has a New York City park named after him?
Answer

William Cullen Bryant . Bryant Park, adjacent to the central branch of the New York Public Library is named for him.

Previous Trivia Questions