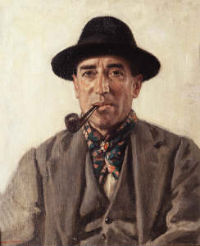 W. H. (William Henry) Davies
William Henry Davies (pronounced "Davis") was born in Monmouthshire, Wales, near the border with England. His family was poor, and he was apprenticed to a picture-framer at age 14. When he was 20 he moved to

read more
Featured Poem
Ambition
1
I had Ambition, by which sin
 The angels fell;
I climbed and, step by step, O Lord,
 Ascended into Hell.
5
Returning now to peace and quiet,
 And made more wise,
Let my descent and fall, O Lord,
 Be into Paradise.
Click here for complete poem
---
Poets Book of Days
September 24
William Lisle Bowles born, 1762

View Calendar of Days
Poetry Trivia
Question:
Who founded the New York City institution St. Mark's Poetry Project in 1966?
Answer

The Poetry Project was spearheaded by Paul Blackburn. With him were Carole Bergé, Diane Wakoski, Joel Oppenheimer and Anne Waldman among others.

Previous Trivia Questions