Granger's is acknowledged as an inspiring site for poets and poetry lovers here
Follow updates on Twitter and Facebook.
Take the Granger's Guided Tour Here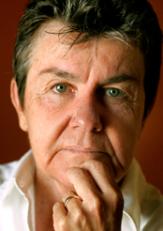 Kay Ryan
Named Poet Laureate in 2008, Kay Ryan is known for her compact, witty, and yet highly-accessible poetry. Her work has been likened to that of Marianne Moore and Emily Dickinson. Ryan's poems work to

read more
Featured Poem
Ball Rolls on a Point, A
1
The whole ball
of who we are
presses into
the green baize
5
at a single tiny
spot. An aural
track of crackle
betrays our passage
through the
Click here for complete poem
Poets Book of Days
April 26
Daniel Defoe died, 1731

View Calendar of Days
Poetry Trivia
Question:
What poet and wit's epitaph reads, "When I am dead, I hope it may be said: / 'His sins were scarlet, but his books were read'"?
Answer


Previous Trivia Questions