Follow updates on Twitter and Facebook.
Take the Granger's Guided Tour here
Help us improve Granger's by taking our user survey
here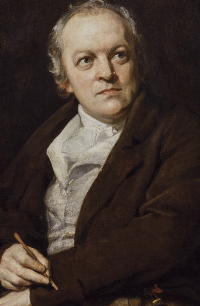 William Blake
A Londoner, Blake was a poet, painter, engraver, and visionary. Songs of Innocence and Songs of Experience, words and designs alike, were engraved on copper by Blake himself. Blake designed and executed illustrations for

read more
Featured Poem
Tyger, The
1
Tyger, Tyger, burning bright
In the forests of the night;
What immortal hand or eye,
Could frame thy fearful symmetry?
5
In what distant deeps or skies
Burnt the fire of thine eyes!
On what wings dare he aspire?
What the hand, dare seize the fire?
And what shoulder, & what art,
Click here for complete poem
---
Poets Book of Days
November 28
Eiléan Ní Chuilleanáin born, 1942

View Calendar of Days
Poetry Trivia
Question:
E. E. cummings's The Enormous Room , a novel about being a prisoner of war in World War I, frequently alludes to which allegorical book?
Answer

John Bunyan's Pilgrim's Progress , which was written while the author was imprisoned for preaching without a license.

Previous Trivia Questions