Granger's is acknowledged as an inspiring site for poets and poetry lovers here
Follow updates on Twitter and Facebook.
Take the Granger's Guided Tour Here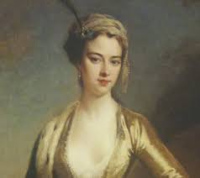 Lady Mary Wortley Montagu
Lady Mary Wortley Montagu, one of the most fascinating women in 18th century Britain, was born in 1689 to Evelyn Pierrepont, the wealthy Earl of Kingston, and his wife Lady Mary Fielding. Her mother was the aunt of the

read more
Featured Poem
Between Your Sheets
1
Between your sheets you soundly sleep
Nor dream of Vigils that we Lovers keep
While all the night, I waking sigh your name,
The tender sound does every nerve inflame,
5
Imagination shews me all your charms,
The plenteous silken hair, and waxen Arms,
The well turn'd neck, and snowy rising breast
And all the Beauties that supinely rest
between your sheets.
Click here for complete poem
---
Poets Book of Days
May 26
Lady Mary Wortley Montagu born, 1689

View Calendar of Days
Poetry Trivia
Question:
What English poet, now known as second only to Shakespeare, was better known as a political pamphleteer during his lifetime?
Answer


Previous Trivia Questions