Granger's is acknowledged as an inspiring site for poets and poetry lovers here
Follow updates on Twitter and Facebook.
Take the Granger's Guided Tour Here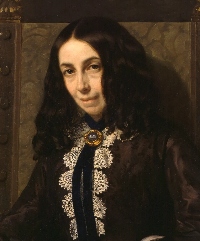 Elizabeth Barrett Browning
Elizabeth Barrett Browning was born on March 6, 1806, in Durham, England, the first of twelve children. Her father was a plantation owner with large estates in Jamaica. She grew up in Herefordshire where her father had

read more
Featured Poem
Insufficiency
1
W hen I attain to utter forth in verse
Some inward thought, my soul throbs audibly
Along my pulses, yearning to be free
And something farther, fuller, higher, rehearse,
5
To the individual, true, and the universe,
In consummation of right harmony:
But, like a wind-exposed distorted tree,
We are blown against for ever by the curse
Which breathes through Nature. Oh, the world is weak!
Click here for complete poem
---
Poets Book of Days
March 6
Elizabeth Barrett Browning born, 1806

View Calendar of Days
Poetry Trivia
Question:
Whose famous last words were "Either this wallpaper goes, or I do"?
Answer

Oscar Wilde, according to some sources. One wonders about its veracity given his deathbed conversion back to Catholicism; a priest remained with him during his last hours. Another deathbed quote attributed to Wilde; having asked for a glass of champagne, he said: "Alas, I am dying beyond my means."

Previous Trivia Questions