Click on the icons on the right for a free smartphone app for the featured poem and trivia!
Follow updates on Twitter and Facebook.
Take the Granger's Guided Tour Here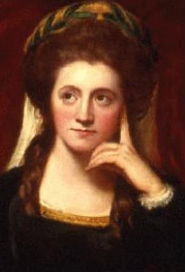 Anna Seward
Anna Seward was born in Eyam, Derbyshire, on December 12, 1742. Her father, Thomas Seward, was the rector of Eyam, and her mother, Elizabeth Hunter, was the daughter of John Hunter, Samuel Johnson's

read more
Featured Poem
December Morning
1
I love to rise ere gleams the tardy light,
 Winter's pale dawn;—and as warm fires illume,
 And cheerful tapers shine around the room,
 Through misty windows bend my musing sight
5
Where, round the dusky lawn, the mansions white,
 With shutters closed, peer faintly through the gloom,
 That slow recedes; while yon grey spires assume,
 Rising from their dark pile, an added height
By indistinctness given.—Then to decree
Click here for complete poem
---
Poets Book of Days
December 12
Anna Seward born, 1742

View Calendar of Days
Poetry Trivia
Question:
The French sculptor Rodin hired an admirer to be his secretary, 1905-07, who would later be judged to be one of Europe's greatest poets. Who was it?
Answer


Previous Trivia Questions