Granger's is acknowledged as an inspiring site for poets and poetry lovers here
Follow updates on Twitter and Facebook.
Take the Granger's Guided Tour Here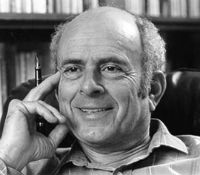 Louis Simpson
Louis Simpson was born on March 27, 1923, in Jamaica to a Russian mother and lawyer father of Scottish descent. His life as an American began when he entered Columbia University at seventeen where he studied with

read more
Featured Poem
On the Lawn at the Villa
1
On the lawn at the villa—
That's the way to start, eh, reader?
We know where we stand—somewhere expensive—
You and I imperturbes , as Walt would say,
5
Before the diversions of wealth, you and I engagés .
On the lawn at the villa
Sat a manufacturer of explosives,
His wife from Paris,
And a young man named Bruno,
Click here for complete poem
---
Poets Book of Days
January 31
A. A. Milne died, 1956

View Calendar of Days
Poetry Trivia
Question:
In the movie Il Postino , which real-life poet helps the mailman win the heart of his town's most beautiful woman?
Answer

Pablo Neruda. The film is based on the mailman's memoir.

Previous Trivia Questions