Granger's is acknowledged as an inspiring site for poets and poetry lovers here
Follow updates on Twitter and Facebook.
Take the Granger's Guided Tour Here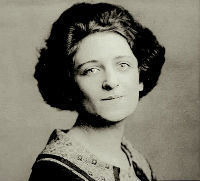 Laura (Riding) Jackson
She was born in New York on January 16, 1901, within three weeks of the beginning of the twentieth century, and died in Florida ninety years and nine months later. She was born

read more
Featured Poem
Incarnations
1
Do not deny,
Do not deny, thing out of thing.
Do not deny in the new vanity
The old, original dust.
5
From what grave, what past of flesh and bone
Dreaming, dreaming I lie
Under the fortunate curse,
Bewitched, alive, forgetting the first stuff . . .
Death does not give a moment to remember in
Click here for complete poem
---
Poets Book of Days
September 2
Laura Riding died, 1991

View Calendar of Days
Poetry Trivia
Question:
What major religious figure of the twentieth century was also a poet?
Answer

Pope John Paul II (Karol Józef Wojtyla)

Previous Trivia Questions