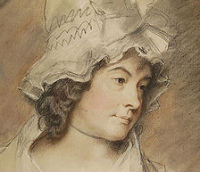 Charlotte Smith
Charlotte Smith has been called the first true Romantic poet and novelist. Jane Austen, Wordsworth, Coleridge, and Keats were influenced by her work, and her volume Elegiac

read more
Featured Poem
Written in October
1
The blasts of Autumn as they scatter round
 The faded foliage of another year,
And muttering many a sad and solemn sound,
 Drive the pale fragments o'er the stubble sere,
5
Are well attuned to my dejected mood;
 (Ah! better far than airs that breathe of Spring!)
 While the high rooks, that hoarsely clamouring
Seek in black phalanx the half-leafless wood,
 I rather hear, than that enraptured lay
Click here for complete poem
---
Poets Book of Days
October 28
John Hollander born, 1929

View Calendar of Days
Poetry Trivia
Question:
Whose poem Confessio Amantis was originally dedicated to King Richard II, who had commissioned it, but was, in later editions, dedicated to his usurper King Henry IV?
Answer


Previous Trivia Questions