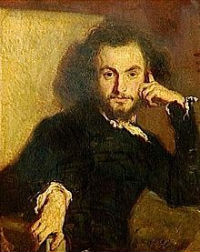 Charles Baudelaire
The French poet and critic Baudelaire was born in Paris. His poetry, classical in form, introduced symbolism by establishing symbolic correspondences among sensory images (e.g., colors, sounds, scents).

read more
Featured Poem
Landscape
1
I want to compose pure poetry
Lying down near the sky, as astrologers do;
Up there, next to bell towers, I'll listen in my dreams
To their solemn hymns carried by the wind.
5
Chin resting in hands, looking down from my garrett,
I'll see workers sing and gossip;
Chimneys, steeples—those masts of the city—
And vast skies that tell of eternity.
How sweet, through the mist, to see the birth
Click here for complete poem
---
Poets Book of Days
June 25
Charles Baudelaire's Les fleurs du mal was published this day in 1857. Six of the work's most controversial poems were suppressed in France until 1949.

View Calendar of Days
Poetry Trivia
Question:
What W.B. Yeats poem provided the title for Joan Didion's book of essays Slouching Towards Bethlehem ?
Answer

"The Second Coming." ("And what rough beast, its hour come round at last, / Slouches towards Bethlehem to be born?")

Previous Trivia Questions