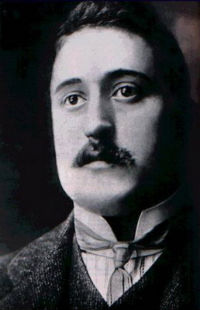 Guillaume Apollinaire
The French poet Apollinaire was born Wilhelm Apollinaris de Kostrowitzky. Apollinaire was a leader in the restless period of technical innovation and experimentation in the arts during the early twentieth century.

read more
Featured Poem
Mirabeau Bridge, The
1
Under the Mirabeau Bridge the Seine
Flows and our love
Must I be reminded again
How joy came always after pain
5
Night comes the hour is rung
The days go I remain
Hands within hands we stand face to face
While underneath
The bridge of our arms passes
Click here for complete poem
---
Poets Book of Days
August 26
Guillaume Apollinaire born, 1880

View Calendar of Days
Poetry Trivia
Question:
What poet lived in the Greenwich Village townhouse which was destroyed when a bomb manufactured by the radical student organization The Weather Underground accidentally went off?
Answer

James Merrill. He recorded the event in a poem titled "18 West 11th Street," the address of the townhouse.

Previous Trivia Questions