Granger's is acknowledged as an inspiring site for poets and poetry lovers here
Follow updates on Twitter and Facebook.
Take the Granger's Guided Tour Here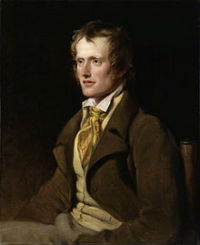 John Clare
Clare was born into severe poverty in Helpston, a farm community near Peterborough in England, and went to work at the age of 7. He composed his first poems on sugar bags. The son of a ballad singer,

read more
Featured Poem
Hail Dreary November
1
Hail! dreary November,
Full well I remember,
Thy wild roaring tempest, when I was a child,
My heart ne'er was weary,
5
My face was aye cheery,
The loud roaring lynn, and the mountains so wild.
2
The wild raving thunder,
The woods rolling under,
The lake rolling billows, like waves of the sea,
3
4
Click here for complete poem
---
Poets Book of Days
November 23
Derek Mahon born, 1941.

View Calendar of Days
Poetry Trivia
Question:
Who successfully staved off his parents' eviction with the publication of his first book of poetry?
Answer


Previous Trivia Questions