Granger's is acknowledged as an inspiring site for poets and poetry lovers here
Follow updates on Twitter and Facebook.
Take the Granger's Guided Tour Here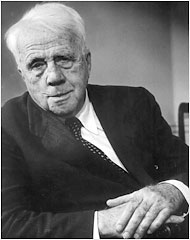 Robert Frost
It is anomalous (but maybe peculiarly American) that Frost should be so strongly associated with the idiom and landscape of New England, since he was born in California (west of the Mississippi River, like the

read more
Featured Poem
Boundless Moment, A
1
He halted in the wind, and—what was that
Far in the maples, pale, but not a ghost?
He stood there bringing March against his thought,
And yet too ready to believe the most.
5
"Oh, that's the Paradise-in-Bloom," I said;
And truly it was fair enough for flowers
Had we but in us to assume in March
Such white luxuriance of May for ours.
We stood a moment so, in a strange world,
Click here for complete poem
---
Poets Book of Days
March 26
A. E. Housman born, 1859

View Calendar of Days
Poetry Trivia
Question:
For how much did an amorous sonnet sell toward the end of the Elizabethan sonnet craze?
Answer

2 crowns, as recorded by Sir John Harington in his critical epigrams.

Previous Trivia Questions