Granger's is acknowledged as an inspiring site for poets and poetry lovers here
Follow updates on Twitter and Facebook.
Take the Granger's Guided Tour Here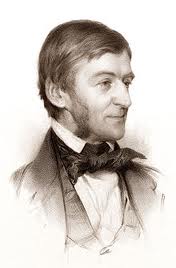 Ralph Waldo Emerson
Emerson, though best remembered for his philosophical essays, always regarded himself essentially as a poet. Born in Boston, he was the son of a Unitarian minister and was himself ordained after studying at

read more
Featured Poem
Land was all electric, The
1
The land was all electric
 There was no need of trumpets
 As they float by coast & crag
There was no need of banners
5
Every zephyr was a bugle
Every maple was a flag
Each steeple was a rallying sign
The tocsin was its bell
Sharp steel was the lieutenant
Click here for complete poem
---
Poets Book of Days
May 25
Ernest Percival Rhys died, 1946

View Calendar of Days
Poetry Trivia
Question:
Who was the first English poet to compile his own collected works, an act disparaged by his contemporaries because he included plays, a literary form considered unworthy of publication?
Answer


Previous Trivia Questions