Granger's is acknowledged as an inspiring site for poets and poetry lovers here
Follow updates on Twitter and Facebook.
Take the Granger's Guided Tour Here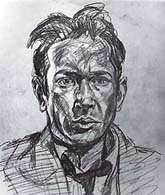 E. E. (Edward Estlin) Cummings
E. E. Cummings, American poet, was born in Cambridge, Mass., and graduated from Harvard in 1915. His poetry, noted for its eccentricities of typography, language, and punctuation, usually seeks to convey a joyful, living

read more
Featured Poem
Into the strenuous briefness
1
into the strenuous briefness
Life:
handorgans and April
darkness, friends
5
i charge laughing.
Into the hair-thin tints
of yellow dawn,
into the women-coloured twilight
Click here for complete poem
---
Poets Book of Days
September 3
William Wordsworth's "Composed upon Westminster Bridge, September 3, 1802" is published.

View Calendar of Days
Poetry Trivia
Question:
What Chinese poet was exiled from China after his poem "Huida" ("The Answer") was used as a pro-democracy rallying cry during the 1989 Tiananmen Square protests?
Answer


Previous Trivia Questions