Granger's is acknowledged as an inspiring site for poets and poetry lovers here
Follow updates on Twitter and Facebook.
Take the Granger's Guided Tour Here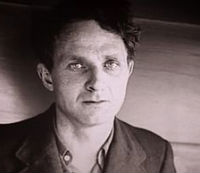 Stephen Spender
English poet and critic, Sir Stephen Spender was born in London. His early poetry—like that of W. H. Auden, C. Day Lewis, and Louis MacNeice, with whom he became associated at Oxford—-was inspired by social protest.

read more
Featured Poem
Abrupt and Charming Mover
1
Abrupt and charming mover,
Your pointed eyes under lit leaves,
Your light hair, your smile,
I watch burn in a foreign land
5
Bright through my dark night
And sheltered by my hand.
My ribs are like a Jonah's whale
In which I dream you: from day
I have recalled your play
Click here for complete poem
---
Poets Book of Days
February 28
Stephen Spender born, 1909

View Calendar of Days
Poetry Trivia
Question:
Who coined the phrase "Metaphysical Poet" when referring to John Donne?
Answer

John Dryden. It was intended to be disparaging: "He affects the Metaphysics [. . .] in his amorous verses, where nature only should reign; and perplexes the minds of the fair sex with nice speculations of philosophy, when he should engage their hearts."

Previous Trivia Questions