Follow updates on Twitter and Facebook.
Take the Granger's Guided Tour here
Read the winning poems in Granger's Poetry Month contest
here
.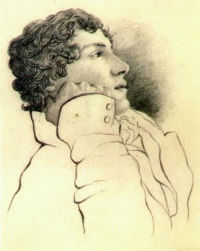 John Keats
There is a game that asks, "What would Shakespeare's (or Milton's, or whosever) reputation be if he or she had died, like Keats, at twenty-five?" In almost every case, the answer is "Nothing."

read more
Featured Poem
After Dark Vapours Have Oppressed Our Plains
1
After dark vapours have oppress'd our plains
For a long dreary season, comes a day
Born of the gentle South, and clears away
From the sick heavens all unseemly stains
5
The anxious month, relieved from its pains,
Takes as a long-lost right the feel of May;
The eyelids with the passing coolness play
Like rose leaves with the drip of summer rains.
And calmest thoughts come round us; as, of leaves
Click here for complete poem
---
Poets Book of Days
February 23
Ernest Dowson died, 1900

View Calendar of Days
Poetry Trivia
Question:
What was the pen name of the French Surrealist poet Eugène Grindel?
Answer


Previous Trivia Questions