Granger's is acknowledged as an inspiring site for poets and poetry lovers here
Follow updates on Twitter and Facebook.
Take the Granger's Guided Tour Here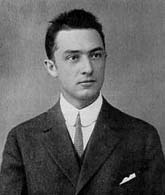 William Carlos Williams
American poet and physician William Carlos Williams was born in Rutherford, N.J. and educated in Geneva, Switzerland, the University of Pennsylvania (M.D., 1906), and the University of Leipzig, where he studied pediatrics.

read more
Featured Poem
4th of July
I
1
The ship moves
but its smoke
moves with the wind
faster than the ship
5
—thick coils of it
through leafy trees
pressing
upon the river
II
III
Click here for complete poem
---
Poets Book of Days
July 4
Nathaniel Hawthorne born, 1804.

View Calendar of Days
Poetry Trivia
Question:
Which early attempt an "American Epic" was greeted as a tremendous failure upon its publication in 1807?
Answer


Previous Trivia Questions