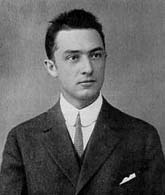 William Carlos Williams
American poet and physician William Carlos Williams was born in Rutherford, N.J. and educated in Geneva, Switzerland, the University of Pennsylvania (M.D., 1906), and the University of Leipzig, where he studied pediatrics.

read more
Featured Poem
Locust Tree in Flower, The
[ First Version ]
1
Among
the leaves
bright
green
5
of wrist-thick
tree
and old
stiff broken
branch
Click here for complete poem
---
Poets Book of Days
May 24
John Wain died, 1994

View Calendar of Days
Poetry Trivia
Question:
Christopher Marlowe's "The Passionate Shepherd to his Love" is a classic poem of ingenuous entreaty. Which of Marlowe's fellow Elizabethans wrote a skeptical response to his poem?
Answer

Sir Walter Ralegh. His "The Nymph's Reply to the Shepherd" expresses doubts about the "truth in every shepherd's tongue."

Previous Trivia Questions