Follow updates on Twitter and Facebook.
Take the Granger's Guided Tour here
Read the winning poems in Granger's Poetry Month contest
here
.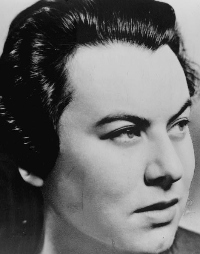 Muriel Rukeyser
Muriel Rukeyser was born in New York City on December 15, 1913, and lived most of her life there. Her poetry expresses the beauty and passion in the confrontation between the individual and her constantly changing

read more
Featured Poem
Soul and Body of John Brown, The
1
His life is in the body of the living.
When they hanged him the first time, his image leaped
into the blackened air. His grave was the floating faces
of the crowd, and he refusing them release
5
rose open-eyed in autumn, a fanatic
beacon of fierceness leaping to meet them there,
match the white prophets of the storm,
the streaming meteors of the war.
Dreaming Ezekiel, threaten me alive!
Click here for complete poem
---
Poets Book of Days
December 15
Charlotte Mew born, 1869

View Calendar of Days
Poetry Trivia
Question:
What British poet was considered as Lord Alfred Tennyson's successor to the Laureateship, only to fall out of favor with Queen Victoria when he penned the following lines: "'Ave you 'eard o' the Widow at Windsor / With a hairy gold crown o'er head? / She 'as ships on the foam--she 'as millions at 'ome, / An' she pays us poor beggars in red"?
Answer


Previous Trivia Questions