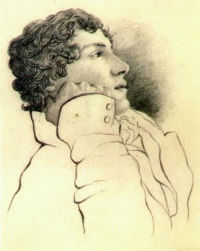 John Keats
There is a game that asks, "What would Shakespeare's (or Milton's, or whosever) reputation be if he or she had died, like Keats, at twenty-five?" In almost every case, the answer is "Nothing."

read more
Featured Poem
When I Have Fears [That I May Cease to Be]
1
When I have fears that I may cease to be
Before my pen has gleaned my teeming brain,
Before high-piled books, in charactery,
Hold like rich garners the full ripened grain;
5
When I behold, upon the night's starred face,
Huge cloudy symbols of a high romance,
And think that I may never live to trace
Their shadows, with the magic hand of chance;
And when I feel, fair creature of an hour,
Click here for complete poem
---
Poets Book of Days
January 31
Francis Reginald Scott died, 1985

View Calendar of Days
Poetry Trivia
Question:
In the movie Il Postino , which real-life poet helps the mailman win the heart of his town's most beautiful woman?
Answer

Pablo Neruda. The film is based on the mailman's memoir.

Previous Trivia Questions