Follow updates on Twitter and Facebook.
Take the Granger's Guided Tour here
Read the winning poems in Granger's Poetry Month contest
here
.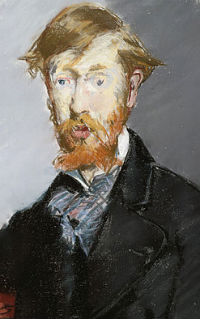 George Moore
The Irish novelist and man of letters George Moore was born in County Mayo on February 24, 1852. His parents, George and Mary, were aristocrats who owned a large estate and a mansion named Moore Hall. Young George

read more
Featured Poem
Sapphic Dream, A
1
I love the luminous poison of the moon,
The silence of illimitable seas,
Vast night, and all her myriad mysteries,
Perfumes that make the burdened senses swoon
5
And weaken will, large snakes who oscillate
Like lovely girls, immense exotic flowers,
And cats who purr through silk-enfestooned bowers
Where white-limbed women sleep in sumptuous state.
My soul e'er dreams, in such a dream as this is,
Click here for complete poem
---
Poets Book of Days
January 21
William Butler Yeats composes his final poem, "The Black Tower" in 1939.

View Calendar of Days
Poetry Trivia
Question:
What New England poet and philosopher was integral in launching Walt Whitman's career?
Answer

Ralph Waldo Emerson. Whitman, as an unknown poet, sent Emerson a copy of his manuscript. Emerson wrote back glowingly: "I greet you at the beginning of a great career." Whitman printed that quotation on the spine of the second edition of Leaves of Grass (without asking Emerson's permission). The endorsement considerably boosted Whitman's credibility.

Previous Trivia Questions