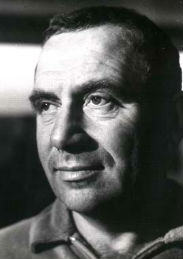 Yehuda Amichai [or Amikhai]
Yehuda Amichai was born in Würzburg, Germany on May 3, 1924, to an Orthodox Jewish family. His father and uncle owned a store and made their living as merchants in Würzburg. The family lived in a large community of other

read more
Featured Poem
Memorial Day for the War Dead
1
Memorial day for the war dead. Add now
the grief of all your losses to their grief,
even of a woman that has left you. Mix
sorrow with sorrow, like time-saving history,
5
which stacks holiday and sacrifice and mourning
on one day for easy, convenient memory.
Oh, sweet world soaked, like bread,
in sweet milk for the terrible toothless God.
"Behind all this some great happiness is hiding."
Click here for complete poem
Poets Book of Days
September 22
Danny Abse born, 1923

View Calendar of Days
Poetry Trivia
Question:
Who was known as the "godfather of the Beats"?
Answer


Previous Trivia Questions