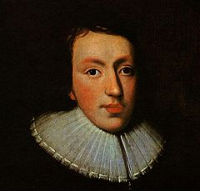 John Milton
Milton is customarily ranked as the second-greatest poet in English, surpassed only by Shakespeare. There have been attacks—most notably by Samuel Johnson in the eighteenth century

read more
Featured Poem
On His Blindness
1
When I consider how my light is spent,
Ere half my days, in this dark world and wide,
And that one talent which is death to hide
Lodged with me useless, though my soul more bent
5
To serve therewith my Maker, and present
My true account, lest he returning chide,
"Doth God exact day labor, light denied?"
I fondly ask; but Patience, to prevent
That murmur, soon replies: "God doth not need
Click here for complete poem
---
Poets Book of Days
December 9
Tennyson's "The Charge of the Light Brigade" is published in The Examiner in 1854.

View Calendar of Days
Poetry Trivia
Question:
What did Charles Baudelaire shout as a rallying cry during the civilian uprising in Paris during the Revolution of 1848?
Answer

"Death to General Aupick." General Jacques Aupick was Baudelaire's stepfather and controlled Baudelaire's allowance.

Previous Trivia Questions