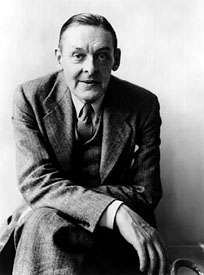 T. S. (Thomas Stearns) Eliot
Thomas Stearns Eliot was born in St. Louis, Missouri, on the banks of the Mississippi River, and later spoke of his background as, variously, Southwestern or Midwestern (not very precise terms); even so, his deeper

read more
Featured Poem
Boston Evening Transcript, The
1
The readers of the Boston Evening Transcript
Sway in the wind like a field of ripe corn.
When evening quickens faintly in the street,
Wakening the appetites of life in some
5
And to others bringing the Boston Evening Transcript ,
I mount the steps and ring the bell, turning
Wearily, as one would turn to nod good-bye to La Rochefoucauld,
If the street were time and he at the end of the street,
And I say, 'Cousin Harriet, here is the Boston Evening Transcript .'
Click here for complete poem
---
Poets Book of Days
September 26
George Santayana died, 1952

View Calendar of Days
Poetry Trivia
Question:
What medical condition allowed Percy Bysshe Shelley's heart, upon its failing to catch fire, to be grabbed from the funeral pyre, given to Mary Shelley, and eventually buried 67 years later with their son?
Answer

According to a 1955 article by Arthur Norman in the Journal of Historical Medicine, Shelley may have suffered from a progressively calcifying heart, which would have kept it from burning with the rest of his remains.

Previous Trivia Questions