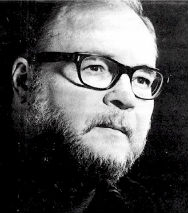 James Wright
James Wright was born in the industrial town of Martins Ferry, Ohio on December 13, 1927. His father worked at a glass factory for fifty years and his mother worked at a laundry facility. Neither of his parents had

read more
Featured Poem
Small Frogs Killed on the Highway
1
Still,
I would leap too
Into the light,
If I had the chance.
5
It is everything, the wet green stalk of the field
On the other side of the road.
They crouch there, too, faltering in terror
And take strange wing. Many
Of the dead never moved, but many
Click here for complete poem
---
Poets Book of Days
December 13
James Wright born, 1927

View Calendar of Days
Poetry Trivia
Question:
What Anglo-American poet, who would win many prizes late in her career, first became known for her biography of Sylvia Plath?
Answer


Previous Trivia Questions