Granger's is acknowledged as an inspiring site for poets and poetry lovers here
Follow updates on Twitter and Facebook.
Take the Granger's Guided Tour Here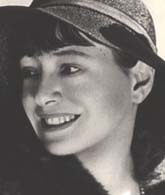 Dorothy Parker
The American poet and short-story writer Parker was born in West End, New Jersey. While serving as drama critic for Vanity Fair from 1916 to 1917 and book critic for the New Yorker in 1927, she gained an almost legendary

read more
Featured Poem
August
1
When my eyes are weeds,
And my lips are petals, spinning
Down the wind that has beginning
Where the crumpled beeches start
5
In a fringe of salty reeds;
When my arms are elder-bushes,
And the rangy lilac pushes
Upward, upward through my heart;
Click here for complete poem
---
Poets Book of Days
August 22
Dorothy Parker born, 1893

View Calendar of Days
Poetry Trivia
Question:
What English poet-catholic apologist-detective novelist was known as "The Prince of Paradox"?
Answer


Previous Trivia Questions