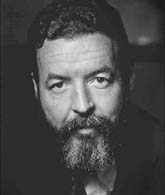 Randall Jarrell
Jarrell was born in Tennessee and died in North Carolina, but significant parts of his life were spent outside the South—childhood in California, World War II in the Army Air Corps, some teaching time at Kenyon College in

read more
Featured Poem
Evening Star, The
1
One star in the dark pass of the houses,
Shines as if it were a sign
Set there to point the way to—
But more beautiful, somehow, than what it points to,
5
So that no one has ever gone on beyond
Except those who could not see it, and went on
To what it pointed to, and could not see that either.
The star far off separates yet how could I see it
If there were not inside me the same star?
Click here for complete poem
---
Poets Book of Days
May 6
Randall Jarrell born, 1914

View Calendar of Days
Poetry Trivia
Question:
What psychiatric hospital admitted Robert Lowell, Sylvia Plath and Anne Sexton?
Answer

McLean Hospital in Belmont, Massachusetts

Previous Trivia Questions