Granger's is acknowledged as an inspiring site for poets and poetry lovers here
Follow updates on Twitter and Facebook.
Take the Granger's Guided Tour Here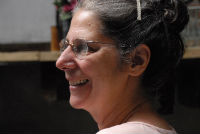 Robyn Sarah
Robyn Sarah was born in New York City to Canadian parents, and grew up in Montreal, where she still lives. A graduate of the Conservatoire de musique du Québec (clarinet) and of McGill University (philosophy and

read more
Featured Poem
Early Start in Midwinter, An
1
The freeze is on. At six a scattering
of sickly lights shine pale in kitchen windows.
Thermostats are adjusted. Furnaces
blast on with a whoosh. And day
5
rumbles up out of cellars to the tune
of bacon spitting in a greasy pan.
Scrape your nail along the window-pane,
shave off a curl of frost. Or press your thumb
against the film of white to melt an eye
Click here for complete poem
---
Poets Book of Days
December 18
Charles Wesley born, 1707

View Calendar of Days
Poetry Trivia
Question:
What poem provided the title for Humphrey Cobb's 1935 book Paths of Glory, which was made into a 1957 movie by Stanley Kubrick?
Answer

"Elegy Written in a Country Churchyard," by Thomas Gray. ("The paths of glory lead but to the grave. . .")

Previous Trivia Questions