Click on the icons on the right for a free smartphone app for the featured poem and trivia!
Follow updates on Twitter and Facebook.
Take the Granger's Guided Tour Here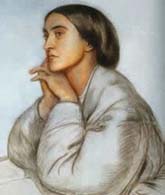 Christina Georgina Rossetti
Christina Rossetti was the most important devotional poet published during the nineteenth century (Gerard Manley Hopkins's poems were not published until 1914). In her own time she was esteemed as the greatest living female

read more
Featured Poem
Advent
1
"Come," thou dost say to Angels,
 To blessed Spirits, "Come";
"Come," to the Lambs of Thine Own flock,
 Thy little Ones, "Come home."
5
"Come," from the many-mansioned house
 The gracious word is sent,
"Come," from the ivory palaces
 Unto the Penitent.
O Lord, restore us deaf and blind,
Click here for complete poem
---
Poets Book of Days
December 5
Jonathan Swift publishes "A Beautiful Young Nymph Going to Bed" in 1734.

View Calendar of Days
Poetry Trivia
Question:
What 1955 movie features a poem by Christina Georgina Rossetti?
Answer

Rossetti's "Remember Me" provides a key clue for Mike Hammer in Robert Aldrich's film noir, Kiss Me Deadly

Previous Trivia Questions