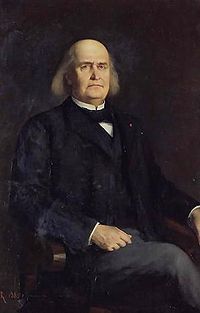 Charles Marie René Leconte de Lisle
Charles Marie Leconte de Lisle was born on October 22, 1818 in Saint-Paul on the Île de la Réunion, an overseas department of France. Leconte de Lisle's father was a former army surgeon, and he was raised in a strict

read more
Featured Poem
Black Panther, The
1
Along the rosy cloud light steals and twinkles;
 The East is flecked with golden filigree:
Night from her loosened necklace slowly sprinkles
 Pearl-clusters on the sea.
5
Clasped on the bosom of the sparkling azure
 Soft skirts of flame trail like a flowing train,
And cast on emerald blades a bright emblazure,
 Like drops of fiery rain.
The dew shines, like a sheaf of splendour shaken,
Click here for complete poem
---
Poets Book of Days
October 22
Charles Marie Rene Leconte de Lisle born, 1818

View Calendar of Days
Poetry Trivia
Question:
What three poets produced the literary review L'étudiant Noir (The Black Student),a forerunner of the Négritude movement?
Answer

Aimé Césaire, Léopold Sédar Senghor and Léon Damas.

Previous Trivia Questions