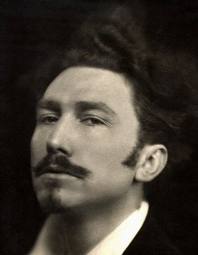 Ezra Pound
American poet Ezra Loomis Pound was also an important critic and translator. Born in Hailey, Idaho, he graduated from Hamilton College in 1905, and took an M.A. from the University of Pennsylvania in

read more
Featured Poem
Villanelle: The Psychological Hour
1
I had over-prepared the event,
that much was ominous.
With middle-ageing care
I had laid out just the right books.
5
I had almost turned down the pages.
Beauty is so rare a thing.
So few drink of my fountain.
So much barren regret,
So many hours wasted!
Click here for complete poem
---
Poets Book of Days
October 30
Adelaide Anne Procter born, 1825

View Calendar of Days
Poetry Trivia
Question:
What two poets are together known as the "Fathers of the English Sonnet"?
Answer

Thomas Wyatt and Henry Howard, Earl of Surrey

Previous Trivia Questions