Granger's is acknowledged as an inspiring site for poets and poetry lovers here
Follow updates on Twitter and Facebook.
Take the Granger's Guided Tour Here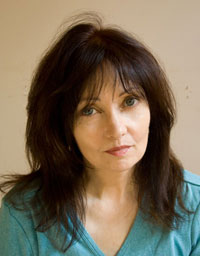 Alice Fulton
Alice Fulton was born in Troy, New York, on January 25, 1952, the daugher of a nurse and the proprietor of the Phoenix Hotel, and the youngest of three daughters. She had already begun writing poetry in high school, but

read more
Featured Poem
"Make It New"
1
I find it helpful to imagine writing in a blizzard
           with every inscription
designed to prevent snow
           crystals from drifting in.
5
Avoid the hive mind. Go fly a kite,
raise a stained glass window in the sky.
It's the opposite of making love to drudgery,
           what I do for a dying.
       Remove the bitter sediment
Click here for complete poem
---
Poets Book of Days
January 25
Dylan Thomas' verse play Under Milkwood is broadcast in 1954.

View Calendar of Days
Poetry Trivia
Question:
What American poet's death by drowning is found ironic by some in light of his father's profession?
Answer

Hart Crane. His father invented Life Savers candies.

Previous Trivia Questions