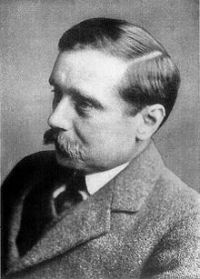 H. G. Wells
The novelist and social commentator Herbert George Wells is known, along with Mary Shelley and Jules Verne, as one of the originators of science fiction. He was born in Kent on September 21, 1866 to Joe

read more
Featured Poem
Limerick
1
Mr. Wells, of the big cerebellum,
Uses mountains of paper (or vellum);
When his temper gets bad
And we ask, "Why so mad?"
5
He replies, " They won't do as I tell em!
Click here for complete poem
---
Poets Book of Days
August 13
H.G. Wells died, 1946

View Calendar of Days
Poetry Trivia
Question:
What poet began his career as "one of the roughs" only to make his reputation as "the good grey poet"?
Answer


Previous Trivia Questions