Follow updates on Twitter and Facebook.
Take the Granger's Guided Tour here
Read the winning poems in Granger's Poetry Month contest
here
.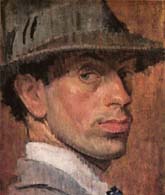 Isaac Rosenberg
Isaac Rosenberg, English poet, was born in Bristol. He studied painting at the Slade School (1911-14) and had an exhibition of his work at the Whitechapel Gallery. Although he wrote on other topics, his best poems—including

read more
Featured Poem
Girl's Thoughts, A
1
Dim apprehension of a trust
Comes over me this quiet hour,
As though the silence were a flower,
And this, its perfume, dark like dust.
5
My individual self would cling
Through fear, through pride, unto its fears.
It strives to shut out what it hears,
The founts of being, murmuring.
O! need, whose hauntings terrorize;
Click here for complete poem
---
Poets Book of Days
November 25
Isaac Rosenberg born, 1890

View Calendar of Days
Poetry Trivia
Question:
Who won the first Seatonian Prize, an annual Cambridge award given to the best poem by one of its students on a sacred subject?
Answer

In 1750 Christopher Smart won the first Seatonian Prize. (He also won four of the next five.) Lord Byron writes of the prize in his poem "English Bards and Scots Reviewers."

Previous Trivia Questions