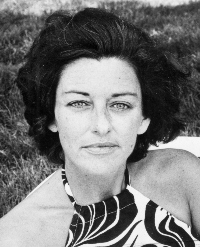 Anne Sexton
Anne Sexton was born in Newton, Massachusetts, on November 9, 1928. She was educated at Garland Junior College and then Radcliffe, and also studied with, and was heavily influenced by, Robert Lowell at Boston

read more
Featured Poem
Fury of Earth, The
1
The day of fire is coming, the thrush
will fly ablaze like a little sky rocket,
You will have to polish up the stars
with Bab-o and find a new God
5
as the earth empties out
into the gnarled hands of the old redeemer.
Click here for complete poem
---
Poets Book of Days
October 4
John Dryden's "Mac Flecknoe" is published in 1683.

View Calendar of Days
Poetry Trivia
Question:
Why was Ovid banished from Rome in 8 c.e.?
Answer

Ovid wrote that it was because of "carmen et error" (a poem and a mistake). What mistake and which poem are not known, but the Ars Amatoria and a love affair with one of Augustus's female relatives are suspected.

Previous Trivia Questions