Follow updates on Twitter and Facebook.
Take the Granger's Guided Tour here
Read the winning poems in Granger's Poetry Month contest
here
.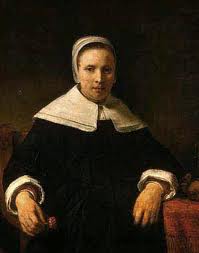 Anne Bradstreet
Anne Bradstreet, an early American poet, born in Northampton, England, is considered to be the first significant woman author in the American

read more
Featured Poem
In Reference to Her Children, 23 June, 1659 [or 1659]
1
I had eight birds hatcht in one nest.
Four Cocks there were, and Hens the rest,
I nurst them up with pain and care,
Nor cost, nor labour did I spare,
5
Till at the last they felt their wing,
Mounted the Trees, and learn'd to sing;
Chief of the Brood then took his flight,
To Regions far, and left me quite:
My mournful chirps I after send,
Click here for complete poem
---
Poets Book of Days
June 23
Mark Akenside died, 1770

View Calendar of Days
Poetry Trivia
Question:
What poet's difficult first marriage is chronicled in the movie Tom and Viv ?
Answer


Previous Trivia Questions