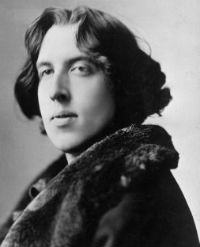 Oscar Wilde
Wilde was born in Dublin, Ireland, on October 16, 1854, of talented and professional parents. His mother composed patriotic verse and published collections of Irish stories under the pen name "Speranza," or "hope."

read more
Featured Poem
I know not whether Laws be right
1
I know not whether Laws be right,
 Or whether Laws be wrong;
All that we know who lie in jail
 Is that the wall is strong;
5
And that each day is like a year,
 A year whose days are long.
But this I know, that every Law
 That men have made for Man,
Since first Man took his brother's life,
Click here for complete poem
---
Poets Book of Days
October 16
Oscar Wilde born, 1854

View Calendar of Days
Poetry Trivia
Question:
Whose heteronyms, to borrow Fernando Pessoa's word, included professor Abel Martin and his student Juan de Mairena?
Answer

Antonio Machado Ruiz collected a number of sayings by these apocryphal thinkers, which he called "complementarios." The student, an iconoclast, often reported and critiqued the sayings of the teacher, whose philosophy resembled that of Gottfried Leibniz. There was a third identity as well, but he did not write much.

Previous Trivia Questions